Avenel
Avenel Heritage and Nature Trail
Distance
5.5km
Time to complete
2-3 hours
Relative difficulty
Easy
Overview
Avenel township was first established at Hughes Creek crossing on the Melbourne-Sydney Rd around 1838.
With the discovery of gold to the north, traffic increased substantially. The township became a significant way point for travellers. The crossing was bridged and Cobb & Co coaches used the nearby Royal Mail Hotel (1847) as a staging post. This historic building is just one example of many you will visit on your walk.
Increasing passing traffic and an expanding primary industry soon attracted business and residents to the town. As a result, historic architecture is an enduring feature. Construction of the railway station (1872) created new opportunities 1.5km from the town origins. Along with other newcomers, Ned Kelly's family moved here in his youth.
This has been Taungurung country for thousands of years. Stewart Park provides an opportunity to connect with that past and to appreciate an environment of pristine waterways, bountiful bush and magnificent river red gum woodland.
Mangalore Floral Walk
Distance
3.5km
Time To Complete
1-2 Hours
Relative difficulty
Easy
Overview
Mangalore Nature Conservation Reserve sits beside the Goulburn Valley Freeway. After initially losing 1.5ha from its western side to the construction of the freeway, it has been re-endowed and more than compensated. An addition of 14ha bushland from landholdings on the eastern boundary was made. Surprisingly, the freeway noise is relatively mute.
Click here for more information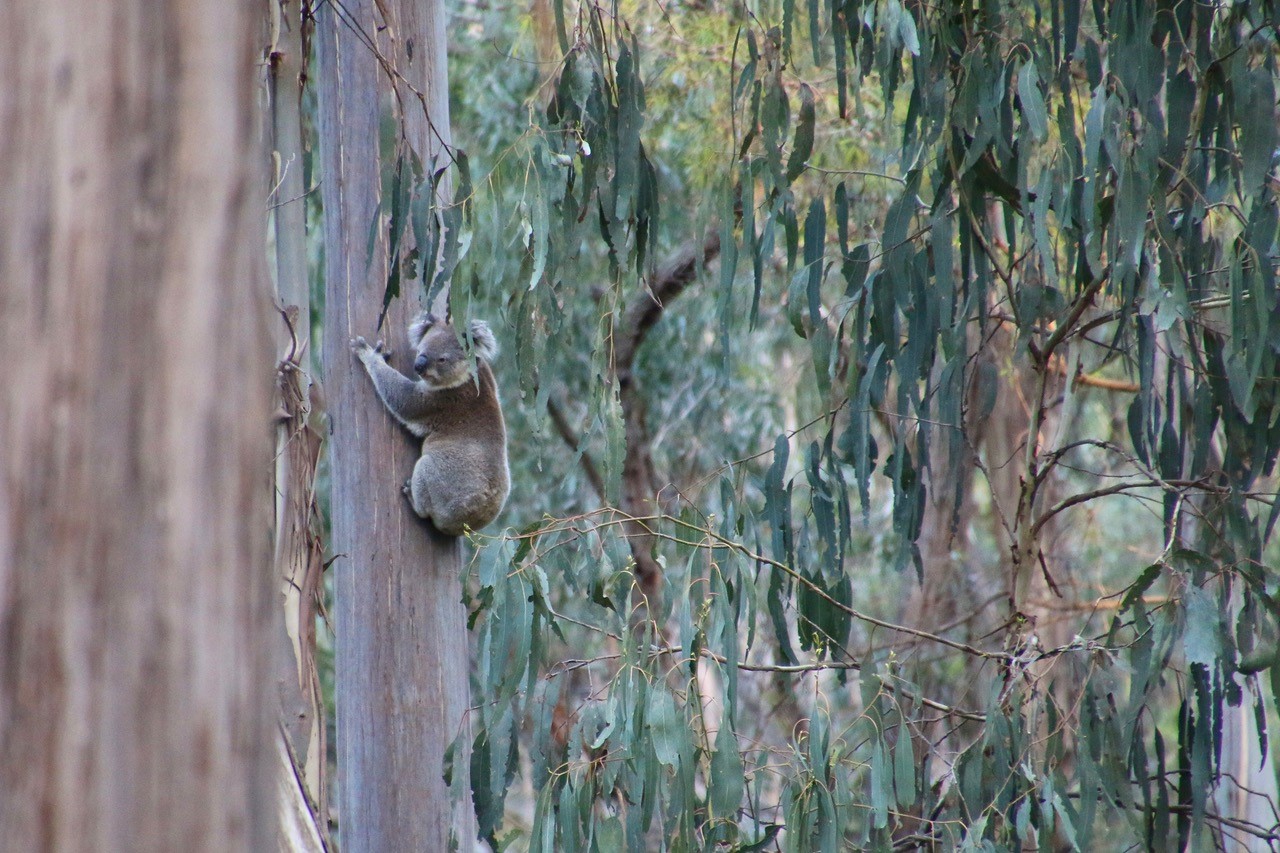 Euroa and Surrounds
Balmattum Hill Walking Track
Distance
Short Walk - 294
Long walk -1036m
Total one way distance - 1330m
Time to complete
Advanced walkers
Short Walk - 5 min | Long Walk - 30 min
Moderation walkers
Short Walk - 10 min | Long Walk - 45 min
Slow walkers
Short Walk - 12 min | Long Walk - 60 min
Relative difficulty
Short Walk - easy
Long Walk - moderate
Overview
A peaceful retreat for all to enjoy.
Short Walk
The track from the car park to the rotunda is about 300m long, offering a pleasant walk with valley views. The Euroa Rotary Club completed the track in 2001 to commemorate the Centenary of Federation. Along the track, extensive revegetation work has been damaged by bushfire. Observe the results of recovery works.
Long Walk
From the rotunda to the end of the track (close to the summit) is 1036 metres (168 metres of incline). This section was constructed in 2011 by the Euroa Rotary Club as an extension to the short walk creating access to the surrounding bushland and views over
Euroa township and across the vast Victorian Northern Plains as far as the eye can see. Rather spectacular!
Rock stack - During World War II soldiers physically trained by carrying rocks up the hill where they remain stacked along the track side.
Both walking tracks are clearly defined and sturdy footwear is advisable. This track links with the Seven Creeks Walking Track (also known as the Apex Track). Seven Creeks is marked on the map.
Dogs are permitted, however in considerations of other visitors and native wildlife please use leashes.
Both tracks are clearly defined and sturdy footwear is advisable. This track links with the Seven Creeks Walking Track (Apex Track).
Funded by an Australian Government Landcare Program, interpretive signs were installed along the track in 2019. Cooperation between Parks Vic, the Victorian Government, Taungurung Land and Waters Council and Goulburn Broken Catchment Management Authority has created a fascinating information trail for visitors to enjoy.
Click here for more information
Bridge to Bridge Walk
Distance
2km return
Time to complete
Advanced walkers
30 min return
Moderate walkers
1 hour return
Slow walkers
1½ hours return
Relative difficulty
Easy
This is an easy walk on mostly flat terrain.
The one steep section of the track has a hand-rail.
Click here for more information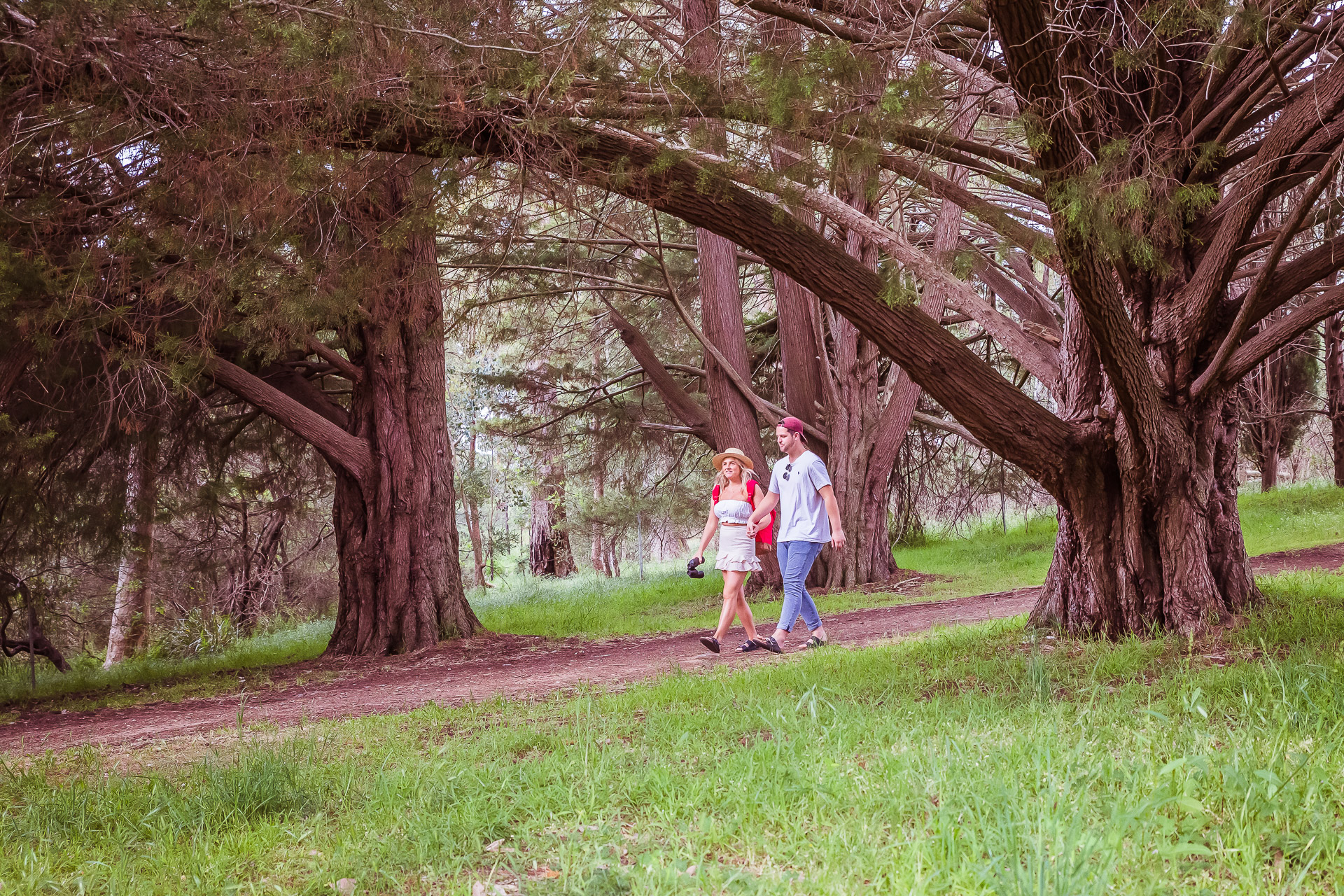 Cleo's Track
Distance
7km
Time to complete
2-3 hours
Relative difficulty
Intermediate to hard
The track is slippery when wet. There are long inclines, some quite steep.
Overview
Experience the grandeur of the recently protected Strathbogie Forest. Descend from dry open woodland into ferny wet gullies and the swampy origins of Seven Creeks.
You will be walking an old dirt logging coupe track. In parts dirt bike riders do churn it up. Expect some slippery surfaces and mud in the wet. The return leg is a steady incline with some steep slopes.
It starts in forest and ends in the same forest, but there are different kinds of forest in between. Begin in dry open woodland of stringy bark, messmate and peppermint gum. The first descent is into a blue gum forest as you get deeper into sheltered slopes. Dropping further down, the trees achieve even greater stature, epitomised by incredible mountain gums. Deeper still, explore wet fern gullies where the sun rarely shines. Approaching the bottom, observe increasingly tall blackwood, grand casuarina and white trunked manna.
At the base of the track, a swamp has its own kind of forest. A forest border of gnarled mountain swamp gums surrounds it. This extensive wetland is criss-crossed with rills that form Seven Creeks. Enter at your own risk. Water can be hidden, footing uncertain, sword-grass cuts and snakes live here.
From the bottom, the only way is up. The description above happens in reverse. Inspect a rocky outcrop of stacked granite boulders. Enjoy trees so big they make you wonder, how big were trees here before logging?
Back at the top, your final turn presents a dramatic contrast. After the immersive experience of native forest biodiversity, massive scale monoculture appears. Return to base walking between two very different forms of land use.
CAMPING IS PERMITTED
No toilets - No potable water - Take your rubbish with you
Campfires are prohibited on days of Total Fire Ban - Vehicles/ motorbikes must be registered, drivers licenced, use formed roads only - Dogs must be under direct control at all times and leashed
when near other people
Golden Mountain Walking Track
Distance
4 km
Time to complete
Advanced walkers – 1.5 hrs
Moderation walkers – 3 hrs
Slow walkers – 4 hrs
take into account extra time to take in the full sensory experience of this walk.
Relative difficulty
This walk is easy to moderate. Don't rush it, take plenty of time to stop, look and listen.
Overview
This forest drive plus a walk starts 23 km from the Strathbogie Township.
From Euroa it is a 45 minute drive to the start of the track.
The drive takes you deep into the Strathbogie Forest to reach the start point which is 12.7 kms from the end of the bitumen on Tames Rd, or about 25 minutes drive from Strathbogie.
The walk is recommended as a slow ramble towards the peak of Golden Mountain. Walking along old logging tracks you will pass large moss covered granite boulders, Eucalypts including Peppermint Gum and Ti-tree thickets. At the summit you will be rewarded with magnificent views to both the east and west.
Click here for more information
Gooram Falls Trail
Distance
400m from car park to falls
Overview
Gooram Falls is a great place to visit for a relaxing day by the water. The two cascading falls are a part of Seven Creeks Wildlife Reserve, with the water source being Seven Creeks. There are two small falls roughly 20 metres apart surrounded by indigenous bushland and rocky outcrops. While you are there, you could explore the other natural attractions of the Strathbogie Ranges.
Click here for more information

Mt Wombat Flora & Fauna Reserve
Distance
5.5km Return
Time to complete
2 Hours
Relative difficulty
Moderate
This is a dirt vehicle track with a gradient increasing to a very steep concreted rise to the summit. Visitors need to be self-reliant.
Note: vehicles also use this track.
Overview
Mt Wombat and Garden Range Flora and Fauna Reserve, in the area around Mt Wombat, is perhaps the most well known nature reserve in the Strathbogie Ranges.
Most visitors drive to the top of Mt Wombat for a great view over the Tableland to the east and over the plains to the north and west. But few people venture beyond the track and car-park and fewer still explore other parts of the reserve....Why not ?
Click here for more information

Seven Creeks Walking Track
Distance
Total distance is 7km. Several bridges cross the Seven Creeks which can be used as alternative routes.
Short walk - 3km circuit to North (down stream)
Long walk - 4km circuit to South (up stream)
Time to complete
Advanced walkers - 60 minutes
Moderate walkers - 89 minutes
Long walk - 120 minutes
Relative difficulty
Easy
Overview
The Seven Creeks Walking Track was established in 1988 by the Euroa Apex Club as a Bicentennial project.
The walking track encompasses the Seven Creeks passing through Floodplain Riparian Woodlands. The track surface ranges from well-maintained asphalt, grassed areas and loose gravel. The Balmattum Hill Walking Track can be access via the southern end of the Seven Creeks Walking Track.
Covered footwear is advisable. Dogs are permitted on leashes. A multipurpose track offering nature's delights to enjoy!
Click here for more information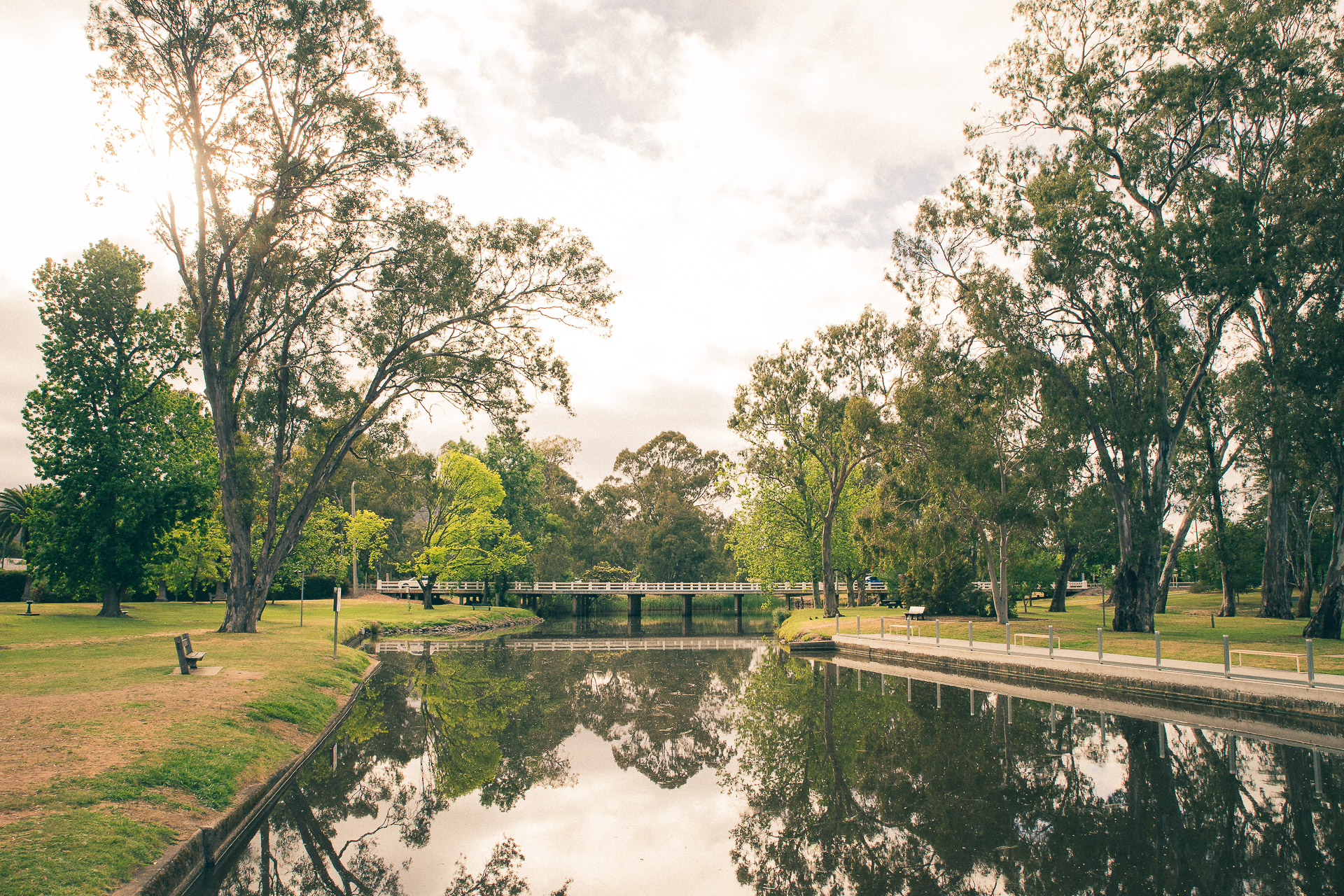 Graytown
POW Camp, Gold Diggings and Cemetery Walk
20 Minutes from Nagambie
Distance
3.5km
Time to complete
1-2 Hours
Relative difficulty
Easy
Overview
This intriguing history walk takes you through the Graytown WWII Prisoner of War Camp site into Heatcote-Graytown National Park and onto the Graytown Cemetery, then back via Graytown gold diggings to close the loop at the old township site.
1. Graytown Prisoner of War Camp
2. Dirt track to Graytown Cemetery Rd
3. Graytown Cemetery
4. The Diggings
5. Grand Yellow Box tree
6. Site of Graytown Township.
7. A small corner of Heathcote-Graytown National Park
Graytown was known as Spring Creek when gold was discovered in September 1868. Within a few months over 30,000 people had arrived. Shop keepers followed, tents and shanties made way for wooden structures. By June 1869, there were 216 beer premises, 36 butchers, 14 bakeries, 17 general stores, 5 banks, 4 chemists, 5 doctors , 2 newspapers, 5 soft drink manufacturers, 10 drapers, 8 restaurants, 6 tobacconists, 10 boot makers, 6 timber yards, 18 blacksmiths, 2 watch makers, 3 ironmongers, 2 tin smiths and 72 unknown stores, a Cobb & Co Station and 19 Police Officers.
Life was rough, illegal mining was a problem along with larrikanism. At its worst families had their children sleep on the floor to avoid stray revolver shots.
However, the diggings came to a sudden end in the winter of 1871. Flooding caused extensive damage and most miners lost everything. They moved on. Some hardened prospectors kept going into the early 1900s
The cemetery was registered on June 3, 1870. Many were too poor to pay, resulting in unauthorised and unrecorded burials. There are many unmarked Chinese graves. The first burial was a 2 month old baby on June 21. Diarrhoea and mining related injuries were common causes of death.
Pressure to mine the area was so great it resulted in tunnelling under the fences and into the cemetery. Eventually, the cemetery size had to be reduced as a result. As a consequence, graves exist outside of the cemetery.
During the Second World War a Prisoner of War Camp was established at Graytown (Camp 6). Approximately 250 Italian and then German POWs were detained. They were not released until January 1947. The German POWs were mostly crew members from the German raider ship "Kormoran" that sunk the HMAS Sydney off the West Australian coast in 1941. Some Finnish seamen were also held. The wreckages of the Sydney and Kormoran were not found until March 2008.
Each compound was enclosed by a double row of wire fencing 2 metres high with coiled barbed wire in between. Guard towers stood at each corner and the perimeter was lit at night.
About 20 Prisoners were held in each of the timber framed barracks. Kitchens, mess huts, shower blocks, laundries and latrines were all located within the compounds. Camps were divided to separate nationalities.
The surrounding forest has been cut for firewood since early settlement. POWs were engaged in unpaid work cutting firewood in the forest. Timber cutting continued until 2002 when the National Park was declared.
Foundations and wire are all that remain of the camp today.
Click here for more information
Violet Town
Honeysuckle Creek Walking Track
Distance
3km loop
Overview
The Honeysuckle Creek Walking Track and associated features – seats, tables, information signs, and landscaping – is a Violet Town community initiative.

The Honeysuckle Recreational Environment Project began in 2002, and since then has had an active volunteer group taking on the management, preservation, and development of this Reserve area.
Volunteers are planting thousands of native trees, shrubs and grasses in the Reserve. The local primary school and community members are involved in environmental educational activities. An identification brochure for birds that occur along the creek is available locally.
Click here for more information
Nagambie and Surrounds
Melville's Lookout Track
Distance
Total distance is 10.5 kilometres. There are several deviations you can opt to investigate
Time to complete
3-4 hours
Relative difficulty
Moderate
Loose stones make the track slippery; part of the track is steep and rough at the base of the Lookout. If this foot trail looks too daunting, keep walking along the road for 100m until you get to the Melville's Lookout 2km sign pointing left, which is a less demanding walk
Overview
Melville's Lookout is named after Captain (Francis) Melville, who was a notorious goldrush era bushranger. After being transported to Australia at age 15 for housebreaking, he escaped Port Arthur to live with local aborigines for a year. He came to Victoria in 1851. Within a short time he had formed the Mt Macedon Gang that robbed travellers heading to and from the goldfields.

Mt Black Quarry can be viewed from the Lookout track. Granite blocks were mined here to use in the construction of the Goulburn Weir wall in the 1890's.

This park comprises Victoria's largest remaining box – ironbark forest, consisting of open woodland including ironbark, grey and yellow box and stringy bark. The understory features blackwood, gold dust wattle, silver wattle and drooping cassinia. Grass trees are numerous. Green rock fern is a common ground plant in milder months.

Wildflowers include grassland wood sorrel, shiny everlastings, tall bluebells and Nodding Greenhood orchids, with many more according to the season. Rare spider orchids may be also found.
Click here for more information
Ruffy
Ruffy Snow Gum Reserve Walking Track
Distance
3km return
Time to complete
Advanced walkers - 20 min return
Moderate walkers - 1 hour return
Slow walkers - 1½ hours 30 mins return
Relative difficulty
The recommended seasons for this walk are Autumn and Winter. There is uneven ground with logs and branches to step over. Gum Boots are recommended on wetter days. Avoid the tiger snake season unless you enjoy the company of these reptiles.
Overview
This track meanders down an unused road reserve through open narrow-leaf peppermint forest until it crosses a walking bridge and enters the Ruffy Flora Reserve.
A circuit of this reserve takes you through swampy riparian woodlands dominated by ancient mountain swamp gums, past a tiny population of snow gums, remnants of a colder climate and skirts a chain of dark deep billabongs into bandicoot and koala territory.
Click here for more information
Ruffy-Eddy Lane, Town and Country Walk
Distance
4km
Time to complete
2hrs
Overview
Eddy Lane is in current use as a walking track. Combining it within a loop connected to both roads entering Ruffy Township has the advantage of offering visitors an easy town and country experience.
Whroo
Balaclava Mine and Whroo Cemetery Trails
Distance
Total distance is seven kilometres.
There are several loops to investigate
Balaclava Hill and Malakoff Hill loops 3km
Cemetery and Aboriginal Rock Well loop 4km
Time to complete
Depends on how many loops you take!
7km loop - 4 hours
Balaclava Hill loop - 2 hours
Cemetery Trail loop - 3 hours
Relative difficulty
Moderate
Trails are mainly gravel and crushed quartz, however some sections have erosion. Occasionally the gradients are steep, but for relatively short distances.
Overview
This is often a quiet, empty place of bushland, native flora and fauna.
Exploration of the Whroo Historic Trail unearths evidence of a different, busy, crowded and culturally significant past. The open cut of the impressive Balaclava Mine marks one end of the journey. Remnants of Victoria's gold rush era can be discovered all along the way. Underground storage tanks, mining shafts and tunnels, building rubble and foundations, century old rubbish dumps and gold mining infrastructure comprise an historic treasure trove.
Once spring fed Aboriginal rock wells close these historic trail loops.
Click here for more information