IMPORTANT NOTE
In line with advice from the Victorian Government and the Australian Government, there may be some changes to trading hours and operations. Please contact vendors directly for specific information.
Avenel
Avenel Pub
17 Mitchell Street
(03) 5796 2305
www.facebook.com/theavenelpub
OPEN: Monday – Thursday: From 3pm
Friday – Saturday: From 12pm
Ave n' ale at the Avenel Pub. Join us around the open fire for great tasting beer or local wine. Enjoy a quality pub meal featuring fresh local produce and international flavours. We have regular free live music and Joker Poker in the bar every Friday.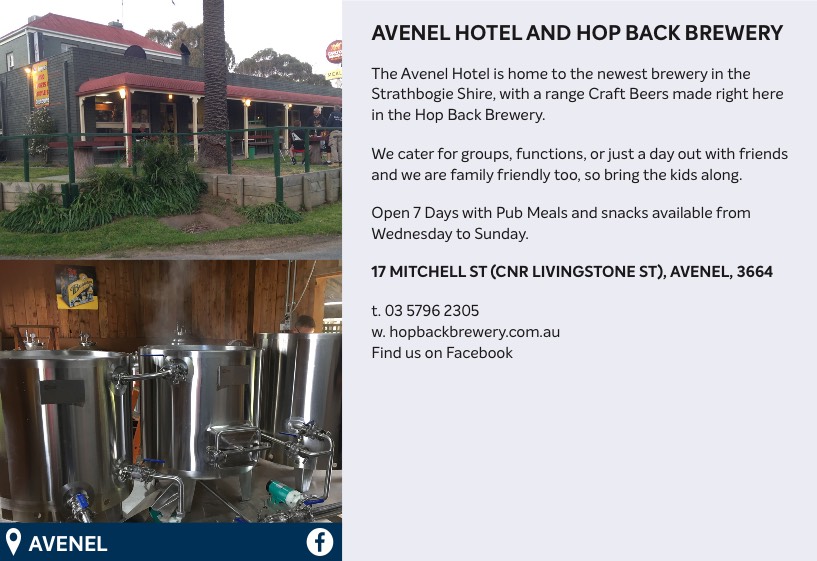 ---
Bank Street Pizza

---
Harvest Home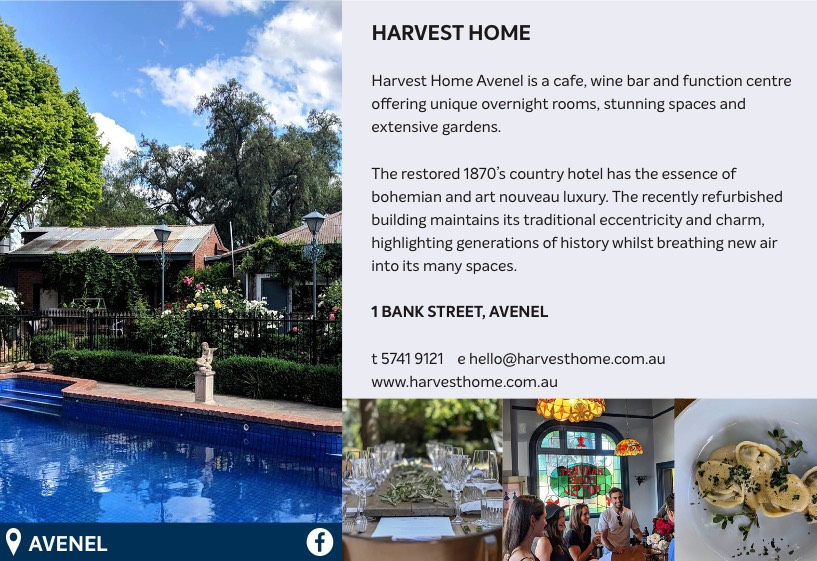 ---
The Daily Dose

---
Fowles Wine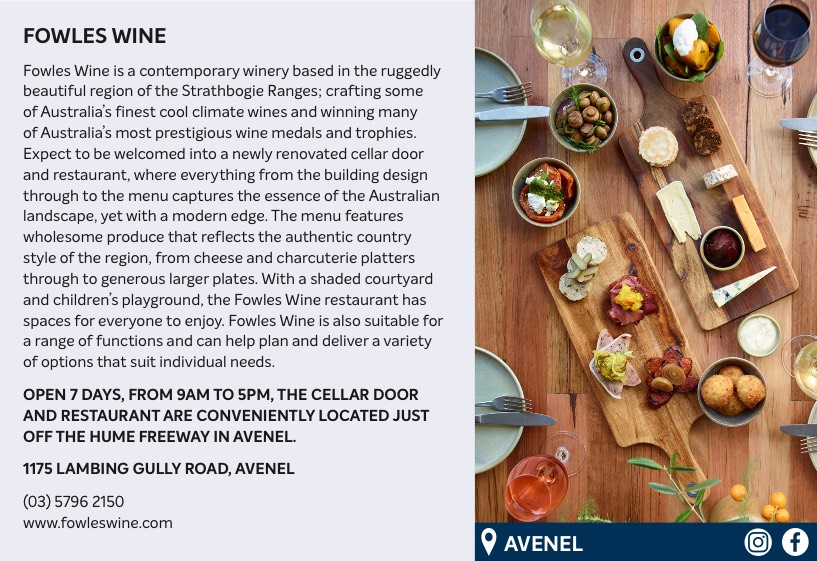 Euroa
Albert's Licensed Café
44 Binney Street (03) 5795 3340 This email address is being protected from spambots. You need JavaScript enabled to view it.
OPEN: Monday – Friday: 9am – 3pm Saturday: 9am – 12pm CLOSED: Sunday
Located in the heart of Euroa this thriving café uses the best of local produce to create a modern breakfast and lunchtime menu guaranteed to impress, especially when complimented with fine regional wine and coffee. Albert's also serve homemade cakes and biscuits and holds monthly 3 course dinners.
---
Burton's Supa IGA plus Liquor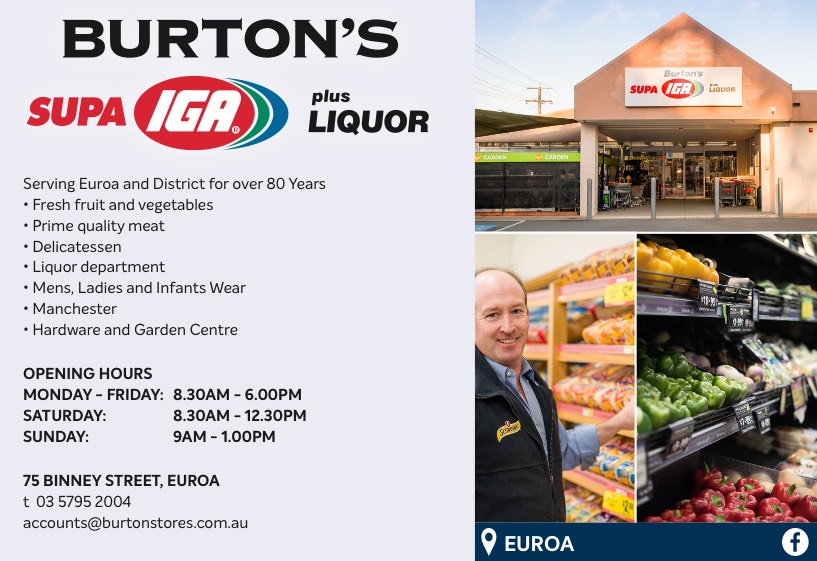 ---
Euroa Hotel est. 1884
67 Railway Street
(03) 5795 2005
This email address is being protected from spambots. You need JavaScript enabled to view it.
OPEN: 7 days a week. Bistro Hours:
Monday – Saturday: 12-2pm & 6-8:30pm
Sunday: 12-2pm
Come and enjoy our delicious food, cold beer, wine and warm hospitality.
---
Fare Enough
55 Binney Street
(03) 5795 1667
www.fare-enough.com.au
This email address is being protected from spambots. You need JavaScript enabled to view it.
OPEN: Monday – Thursday: 9.30am – 5pm
Friday: 9.30am – 5pm
Saturday: 9am – 1pm
CLOSED: Sunday
Offering bulk wholefoods and organic foods, dine on our homemade sushi, healthy light meals and fresh juices while you stock up the pantry. Allergen free products available, including skin care, gluten free ingredients and snacks.
---
Mawson's Bakery & Café, Euroa
Mawson's Bakery & Café is a long established bakery which has evolved into a modern bakery-café to meet the demands of the present 'café culture'. Fantastic breads and rolls, not to mention our award winning 'ciabiatta' pies, pastries – all baked fresh daily. Sandwiches, real coffee, tea and nice cool drinks available.
---
The Nest
Longwood
The White Hart Hotel
63-65 Hill St
(03) 5798 5203
This email address is being protected from spambots. You need JavaScript enabled to view it.
www.thewhiteharthotellongwood.com
Open: Wednesday - Sunday
Nestled in the country town of Longwood, our iconic pub offers delicious pub grub, cold beer and live entertainment. A community orientated, family friendly welcoming venue.
Nagambie
Le Penelope's @ Kirwans Bridge Estate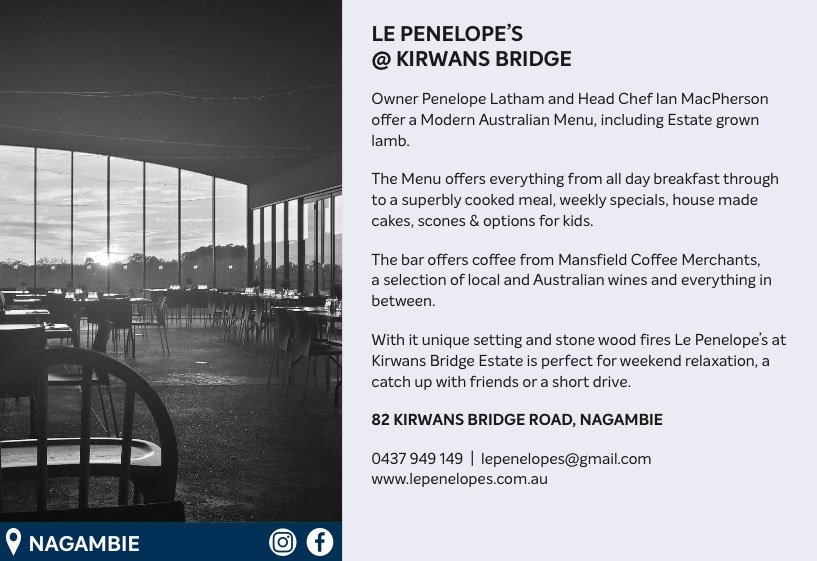 ---
Nagambie Brewery & Distillery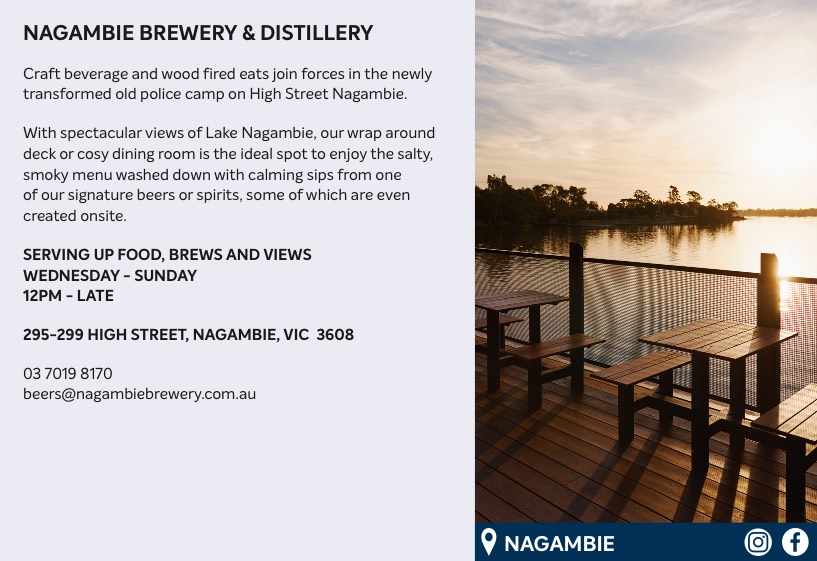 ---
Royal Mail Hotel
350 High Street
(03) 5794 2488
OPEN: All year – hours are seasonal
The historic Royal Mail Hotel, affectionately known as 'The Top' is well known amongst locals and travellers alike for its exceptional dining and overall family friendly, warm hospitality; Featuring a formal dining room with children's play area, club lounge, alfresco dining, bar, TAB and drive-through bottleshop. The Royal Mail is a must visit venue.
---
The Nagambie Rowing Club
The team at the Nagambie Rowing Club will cook up a storm for your lunch or dinner. Enjoy a relaxing atmosphere with full bar service, bistro and a large selection of wines and beers, plus cakes and coffee. Spectacular sunset views from the deck overlooking picturesque Lake Nagambie. We can cater for small and extra-large groups with private rooms available.
Please note we have also been known as the Nagambie Lakes Entertainment Centre and 'The Valle'y' Hotel. We hope to see you soon!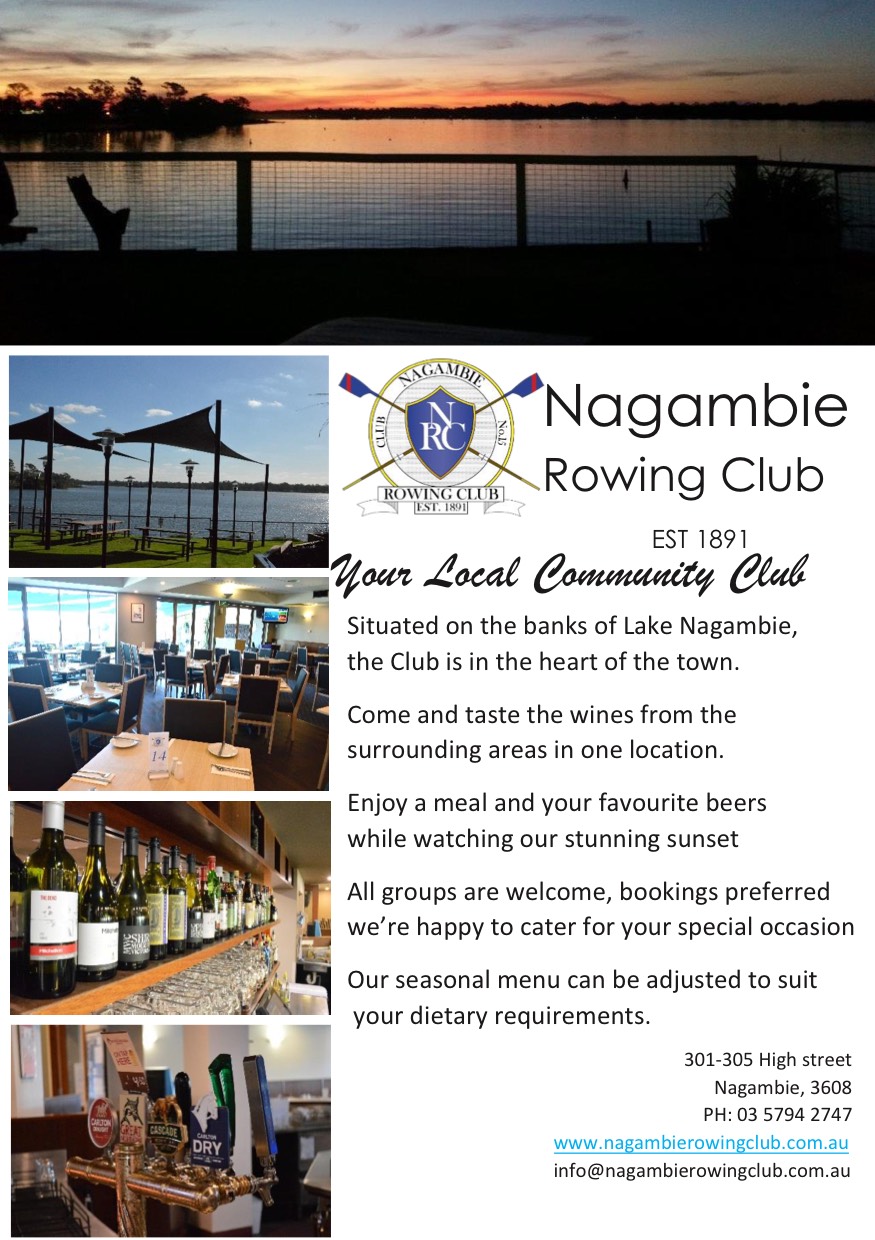 ---
Tour de Senses

Violet Town
Ellen Frances Violet Town Hotel
---