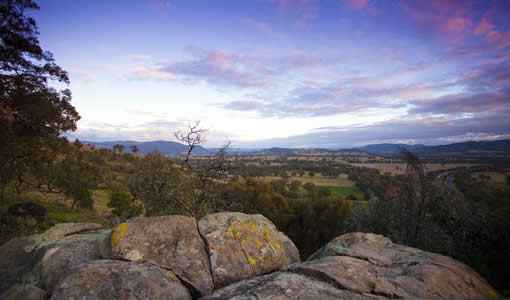 If ever there was a perfect opportunity to 'go bush', then taking to the hills in pursuit the towns of Strathbogie, Ruffy and Boho tucked into the nooks and crannies of the Strathbogie Ranges, must be it.
From 1842 squatters took up huge land holdings in the rugged Strathbogie Ranges to run thousands of sheep and cattle. With families arriving in the 1870's these holdings were reduced for but a few and the trappings of civilisation sprung up.
The Strathbogie Post Office was opened July 1878 and in 1879 Strathbogie State School N. 2181 was opened with 45 students enrolled.
Dairy and sheep were the driving industries in Strathbogie's early days and the gold rush of the 1860's had hundreds working the mines. A second mining boom occurred in the 1940's with crystal mining to satisfy the quartz crystal component of early radios – crystal sets.
The largest hand cut-crystal in the world was mined at the local Crystal King mine.
Vineyards have now replaced cattle, sheep and mining as the prime business pursuit of the Strathbogie region as savvy growers and winemakers take advantage of the cool climate and rich granite soils of the area.
At last count there were 309 people residing in 'greater' Strathbogie so you may well meet them all as you meander through its striking granite strewn hills and rolling valleys teeming with native wildlife
Website: www.strathbogie.org
Accommodation
Halcyon Hideaway
Amy Dainton
190 Kippings Road Strathbogie
0439 335 023
This email address is being protected from spambots. You need JavaScript enabled to view it.
www.halcyonhideaway.com.au

Set atop the scenic Strathbogie mountain ranges, Halcyon hideaway offers exciting and indulgent family, group and romantic retreats.
Home to paddockfuls of pet farm animals, who are always looking for a handful of food or a cuddle, as well as a plethora of native fauna and flora, organic vegetable gardens, an orchard and a fishing/ yabbying dam, there's plenty of onsite activities to keep everyone entertained.
With room for six people, the off-grid Halcyon homestead doesn't compromise on modern luxuries and boasts 1200 thread count linen and spacious bedrooms, cooking facilities, a pool table, LCD Flat screen television and stereo system, as well as a book, DVD and board game library
---
Falls End
Jill Bartlett
1881 Euroa-Mansfield Rd Gooram
0457 087 696
This email address is being protected from spambots. You need JavaScript enabled to view it.


Idylic country retreat set along side Sevens Creek within walking distance to Gooram Falls.
Two storey studio with french doors opening to a courtyard and upstairs balcony over looking gardens, an orchard and Sevens Creek.
There is an abundance of bird life and animals; an adjoining house is available for additional accommodation by arrangement.
---
Fernside Homestead Strathbogie
123 Hills Road, Strathbogie, VIC, 3666
Lisa Emrose
0411 642 857
This email address is being protected from spambots. You need JavaScript enabled to view it.
Camille McLennan
0432 202 320
This email address is being protected from spambots. You need JavaScript enabled to view it.
Click here to see more property details on Stayz.com
3 Bedroom, 2 bathroom Country Homestead set amongst 5 acres of beautifully landscaped gardens.
An easy 2 hour drive from Melbourne just off the Hume Fwy. Sleeping up to 7 guests in 3 bedrooms.
Be welcomed by a white stone and tree lined driveway entrance with majestic gums.
The home has been extensively and thoughtfully renovated with an open plan kitchen/dining/lounge with higher ceilings, heating and cooling throughout and plenty of natural light.
Take in the relaxing panoramic views from the wide verandahs overlooking the farm. You will even be able to see the cows grazing in the typical Australian landscape.