The Euroa area is thought to have been occupied by the indigenous Ngurelban tribe prior to European settlement and there is an important Aboriginal art site in the Gardens Range, 10 km south-east of town.
It is presumably from their language that the town's name derives. 'Yera-o' is said to mean 'joyful'.
The first white men in the district were explorers Hume and Hovell (1824). Thomas Mitchell followed in 1837, then drovers bringing their stock through an area to the north of the present town site along a track he cut at the time.
Squatters began taking up runs in the district in 1838. One of the first was Seven Creeks, established by Janet Templeton in 1838. It was at Seven Creeks that the first fine-wool Saxon merino sheep in Victoria were introduced in 1851 by Eliza Forlonge who had selected the sheep in Saxony.
Euroa earned its place in history as a premier wool-growing community. Euroa became well known as one of Australia's premium wool producing communities and the town remains closely connected with the wool industry, each year celebrating its success during the Wool Week Festival held in October in conjunction with the Agricultural Show.
During the gold rush Euroa became a regular coach stop between Melbourne and Beechworth. Cobb & Co travellers on the way to Sydney also used Euroa to take rest and be revived by the permanent water supply of the Sevens Creek.
The district's success and prosperity drew the attention of Australia's most famous bushranger, Ned Kelly. Together the Kelly Gang – Ned, brother Dan and Steve Hart - robbed the Euroa Bank in 1878 of 2000 pounds in cash & gold (Ties to the Kelly clan run deep in the district, with Ned's father Red Kelly buried in the nearby Avenel Cemetery)
Plenty of reminders about Euroa's colourful past are evident in the historical buildings and memorials.
Walk Euroa's Heritage Trail and be led to all the significant buildings and places which have played their role in creating such a colourful picture of Euroa's fascinating history.
Website: www.euroa.org.au
Accommodation
Castle Creek Motor Inn
www.castlecreekmotorinn.com.au

---
Euroa Butter Factory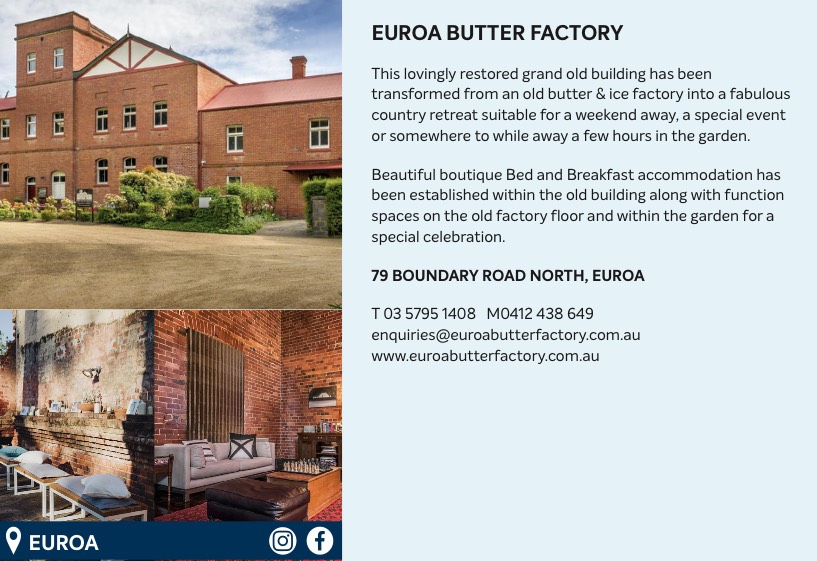 ---
Euroa Caravan Park
---
Euroa Motor Inn
---
Jolly Swagman Motor Inn Euroa
www.jollyswagmanmotorinn.com.au