As per the information on the DHHS website, Victoria returns to COVIDSafe settings from 11:59pm Friday 26 February 2021.You must always carry a face mask with you at all times when you leave the home, unless you have a lawful reason not to.
The Euroa Community Cinema will be adhering to the Victoria Government COVID-19 restrictions. As a result there will be social distancing and COVIDSafe practises in place.
Tickets will be available at the door unless stated otherwise.
Thank you for your cooperation.
CHILDREN UNDER 13 YEARS OF AGE MUST BE ACCOMPANIED BY A PARENT OR GUARDIAN OVER 16 YEARS OF AGE
Limited tickets will also be available at the door
Peter Rabbit 2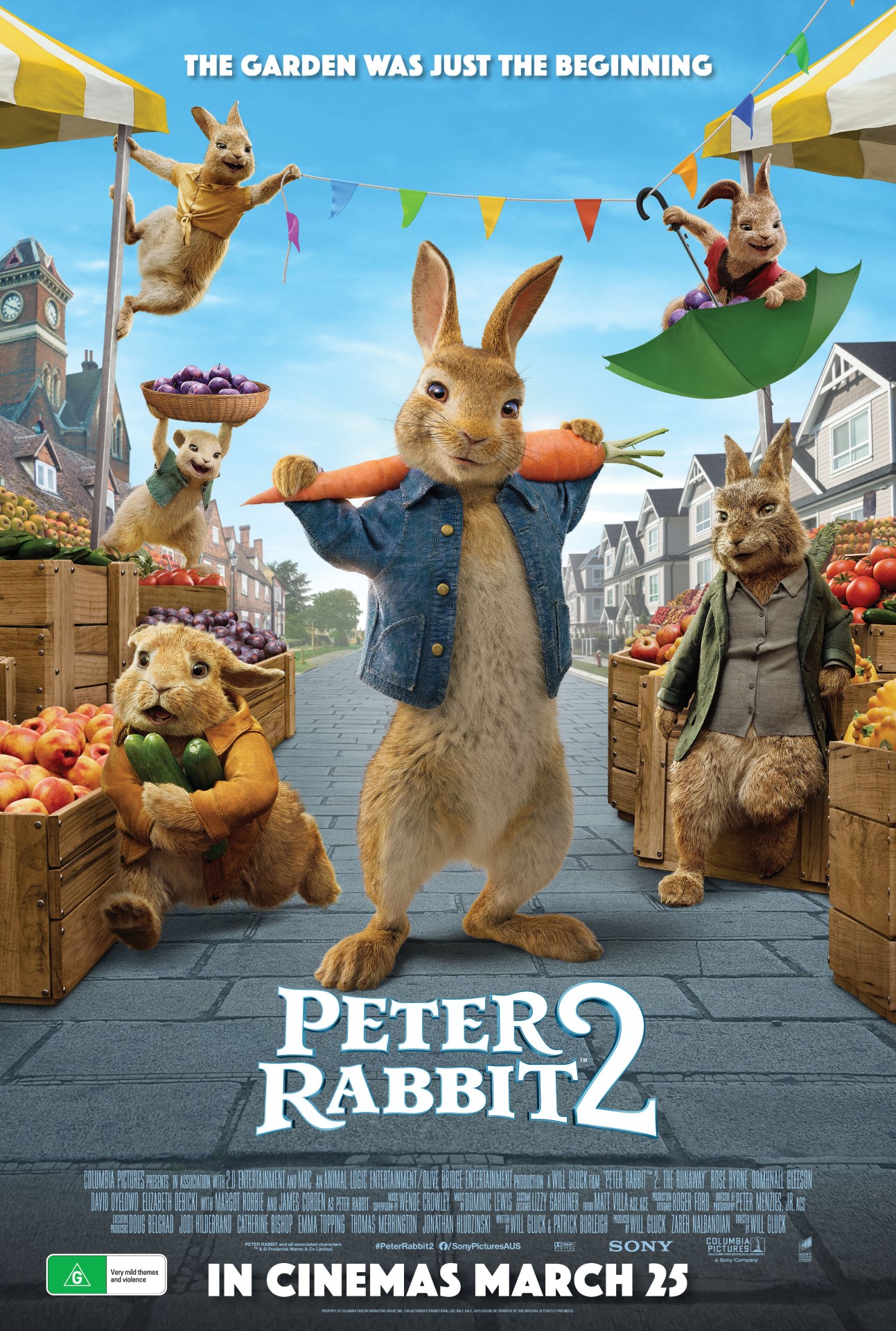 Peter Rabbit 2 is the live-action/CG sequel to the 2018 worldwide hit film that will once again bring Beatrix Potter's beloved characters to a global audience. In the new film, Bea, Thomas, and the rabbits have formed a makeshift and loving family – but when Peter's reputation for mischief spreads beyond the garden and his family is at risk, he must decide what kind of rabbit he wants to be.
Friday 23rd April 6.30pm - Family Friendly Night BYO Dinner - Book Here
Saturday 24th April 4pm - Book Here
Minari (Subtitled)
A tender and sweeping story about what roots us, Minari follows a Korean-American family that moves to a tiny Arkansas farm in search of their own American Dream. The family home changes completely with the arrival of their sly, foul-mouthed, but incredibly loving grandmother. Amidst the instability and challenges of this new life in the rugged Ozarks, Minari shows the undeniable resilience of family and what really makes a home.
Saturday 24th April 8pm - Book Here
Sunday 25th April 4pm - Book Here
Happy Sad Man
Free Movie - Free Supper - Online Bookings Only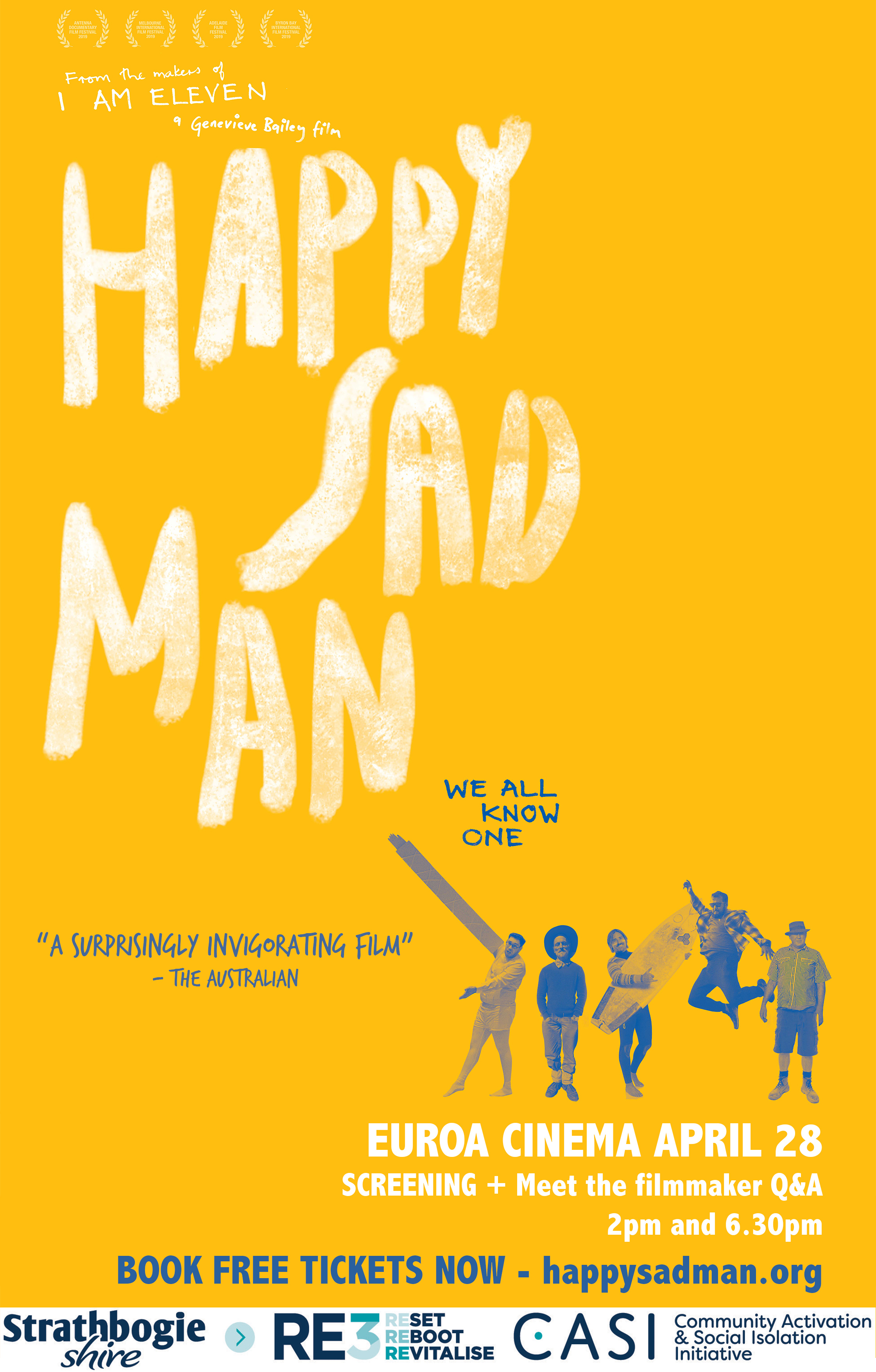 HAPPY SAD MAN is a charming and uplifting insight into the lives of five very different Australian men.
HAPPY SAD MAN gives unforgettable voice to the complex emotional landscapes we can all traverse. Touching, funny and tender, this must-see documentary is set to shine a light on and change the dialogue around masculinity and mental health today
Wednesday 28th April 2pm & 6.30pm - Book Here
Wonder Woman 1984
Free Youth Movie Free Pizza - Online Bookings Only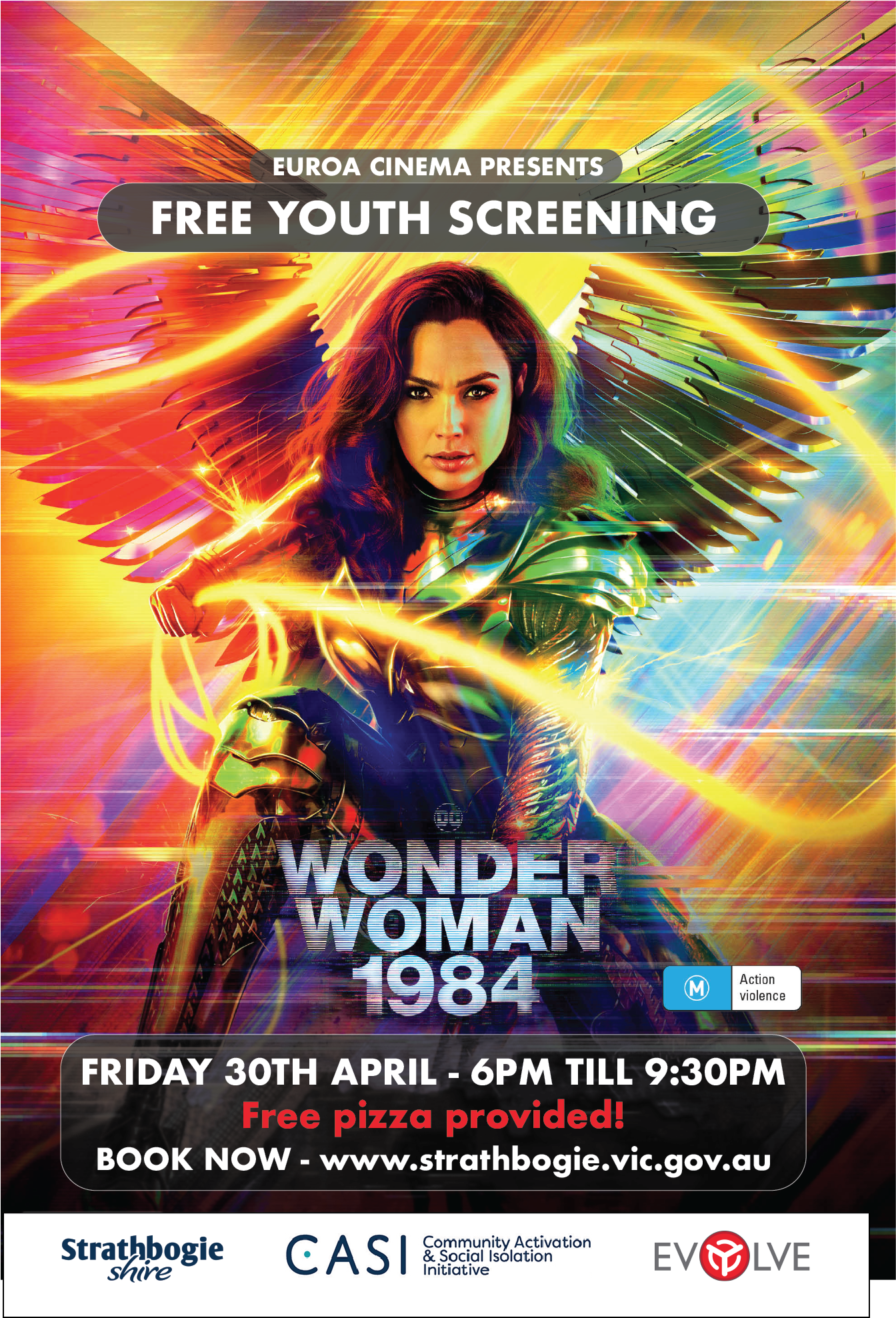 Fast forward to the 1980s as Wonder Woman's next big screen adventure finds her facing an all-new foe: The Cheetah.
Friday 30th April 6pm - Book Here

Supernova (M)
It is deep Autumn and Sam (Colin Firth) and Tusker (Stanley Tucci), partners of twenty years, are on holiday. They are travelling across England in their old campervan visiting friends, family and places from their past. Since Tusker was diagnosed with young-onset dementia two years ago their lives have had to change. Jobs have been given up and plans put on hold. Their time together is now the most important thing they have. As the trip progresses, their individual ideas for their future begin to collide. Secrets are uncovered, private plans unravel and their love for each other is tested like never before. Ultimately, they must confront the question of what it means to love one another in the face of Tusker's irreparable illness.
Saturday 1st May 8pm - Book Here
Sunday 2nd May 4pm - Book Here
Sink or Swim (M)(Subtitled)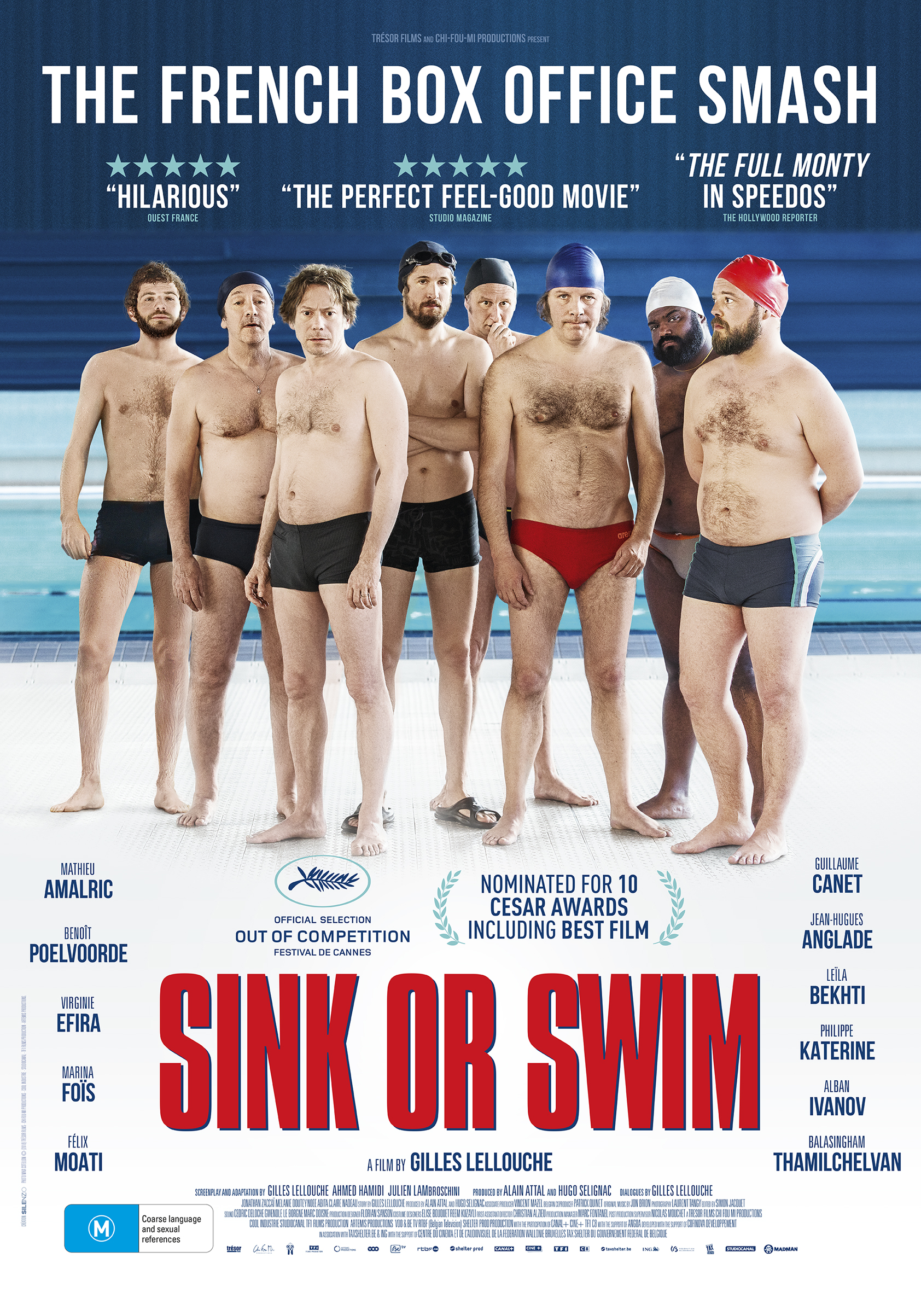 A group of 40-something guys, all on the verge of a mid-life crisis, decide to form their local pool's first every synchronized swimming team - for men. Braving the scepticism and ridicule of those around them, and trained by a fallen champion trying to pull herself together, the group set out on an unlikely adventure, and on the way will rediscover a little self-esteem and a lot about themselves and each other.
Friday 7th May 8pm - Book Here
Saturday 8th May 4pm - Book Here
French Exit (M)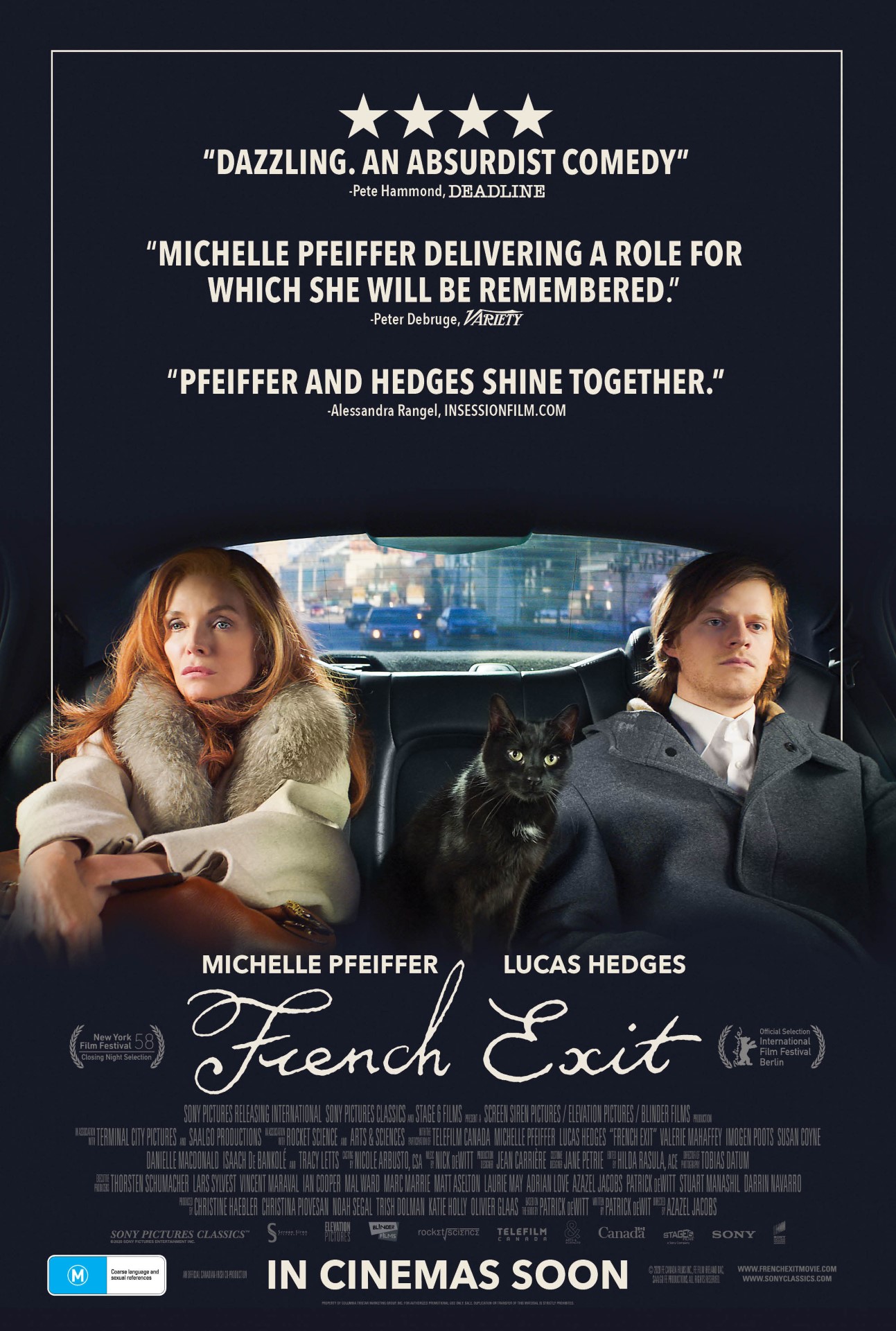 "My plan was to die before the money ran out," says 60-year-old penniless Manhattan socialite Frances Price (Michelle Pfeiffer), but things didn't go as planned. Her husband Franklin has been dead for 12 years and with his vast inheritance gone, she cashes in the last of her possessions and resolves to live out her twilight days anonymously in a borrowed apartment in Paris, accompanied by her directionless son Malcolm (Lucas Hedges) and a cat named Small Frank—who may or may not embody the spirit of Frances's dead husband.
Saturday 8th May 8pm - Book Here
Sunday 9th May 4pm - Book Here
The Father (M)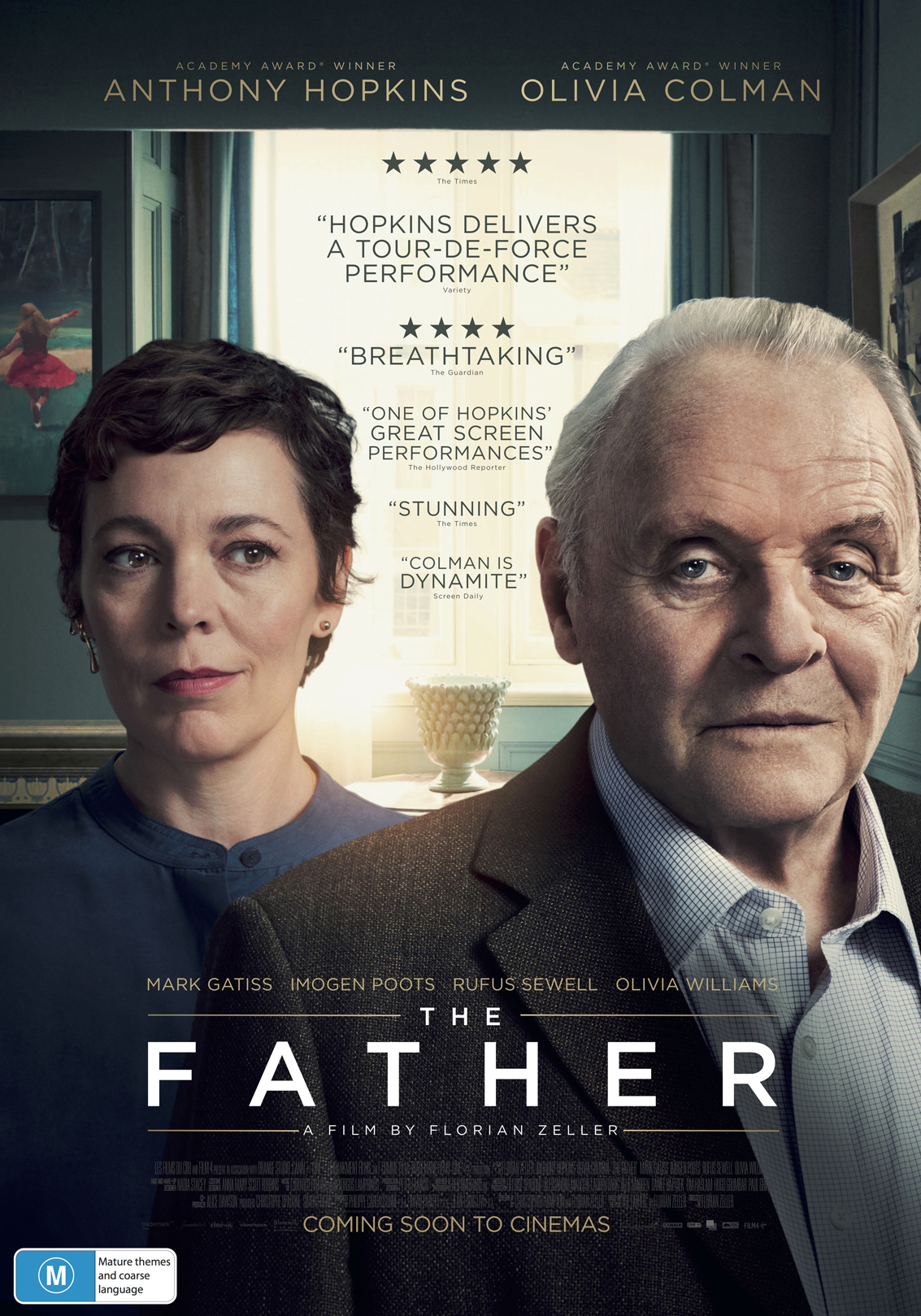 Anthony is 80, mischievous, living defiantly alone and rejecting the carers that his daughter, Anne, encouragingly introduces. Yet help is also becoming a necessity for Anne; she can't make daily visits anymore and Anthony's grip on reality is unravelling. As we experience the ebb and flow of his memory, how much of his own identity and past can Anthony cling to? How does Anne cope as she grieves the loss of her father, while he still lives and breathes before her?
THE FATHER warmly embraces real life, through loving reflection upon the vibrant human condition; heart-breaking and uncompromisingly poignant -- a movie that nestles in the truth of our own lives.
Saturday 15th May 8pm - Book Here
Sunday 16th May 4pm - Book Here
The Courier (M)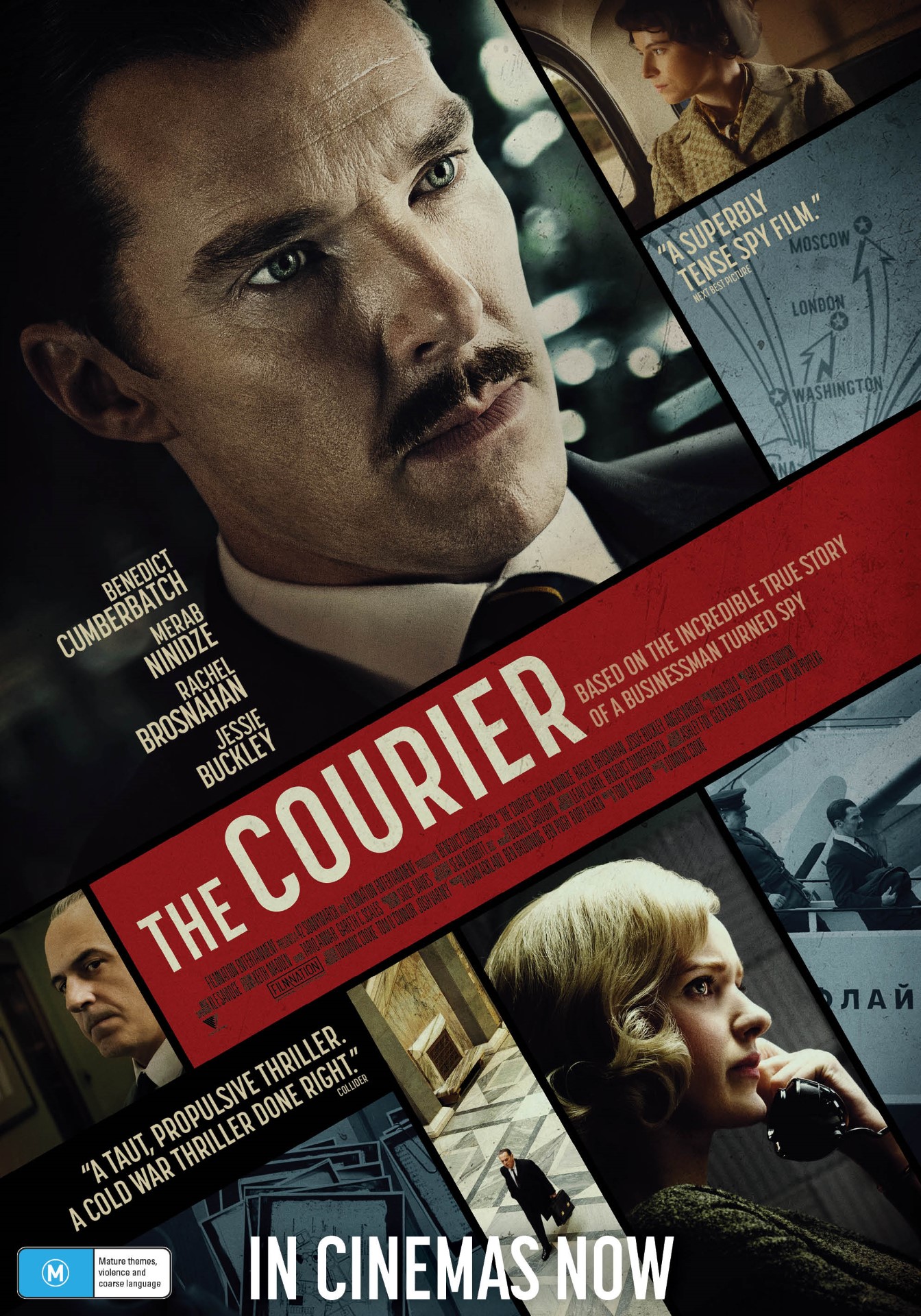 THE COURIER is a true-life spy thriller, the story of an unassuming British businessman Greville Wynne (Benedict Cumberbatch) recruited into one of the greatest international conflicts in history. At the behest of the UK's MI-6 and a CIA operative (Rachel Brosnahan), he forms a covert, dangerous partnership with Soviet officer Oleg Penkovsky (Merab Ninidze) in an effort to provide crucial intelligence needed to prevent a nuclear confrontation and defuse the Cuban Missile Crisis.
Saturday 22nd May 8pm - Book Here
Sunday 23rd May 4pm - Book Here

Godzilla vs Kong (M)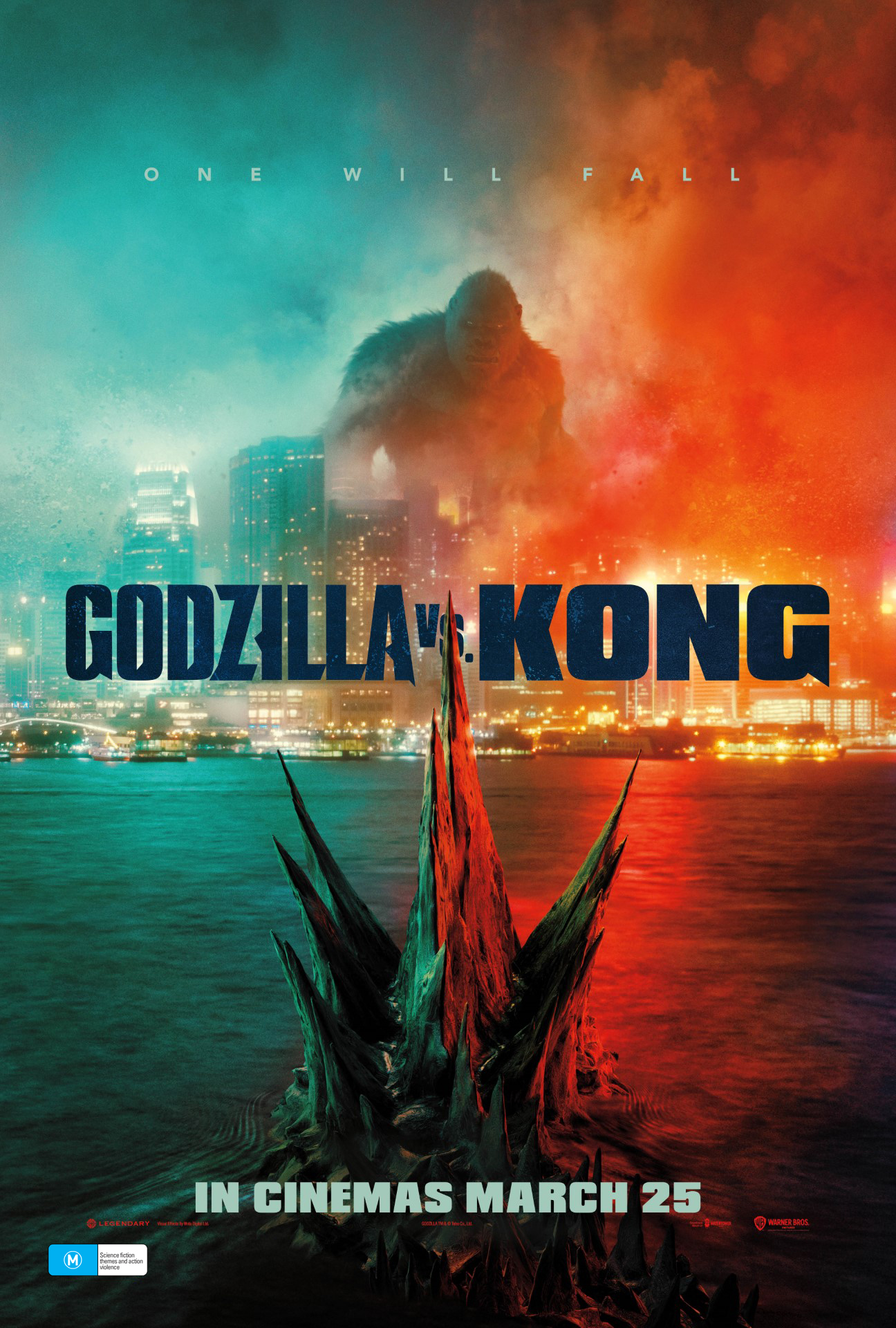 In a time when monsters walk the Earth, humanity's fight for its future sets Godzilla and Kong on a collision course that will see the two most powerful forces of nature on the planet collide in a spectacular battle for the ages. As Monarch embarks on a perilous mission into uncharted terrain and unearths clues to the Titans' origins, a human conspiracy threatens to wipe the creatures, both good and bad, from the face of the earth forever.
Saturday 29th May 8pm - Book Here
Sunday 30th May 4pm - Book Here

Cinema Tickets
Looking for a gift – or a way to save money – why not purchase pre-paid cinema tickets?
Tickets can be purchased at reception at the main Shire office (Binney Street, Euroa) during office hours.Pre-paid tickets are $8 each, a saving of $2 per ticket. Cannot be used for charity screenings.