Lake Nagambie and the surrounding waterways may be closed due to events or other scenarios.
Please use the link below to upcoming closure dates.
Information can also be obtained from the Lake Nagambie Visitor Information Centre on
1800 065 993 or at 293 High Street Nagambie.
For the latest list of Lake and River Closures 2019 - 2020 - click below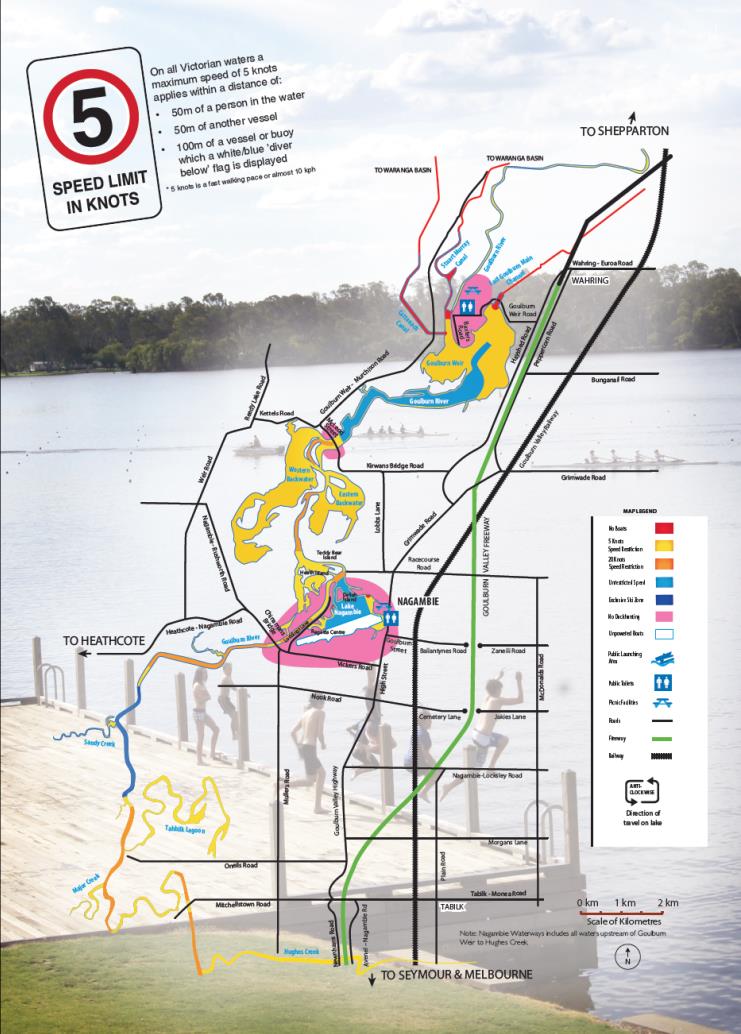 Nagambie Lakes and Goulburn River Waterways Map
---
Marine Safety Act 2010 - Section 208(2)
NOTICE OF BOATING ACTIVITY EXCLUSION ZONE
Strathbogie Shire Council as the declared waterway manager for the Goulburn River from Hughes Creek to Goulburn Weir, including Lake Nagambie, hereby gives notice under section 208(2) of the Marine Safety Act 2010 (Vic) that the waters of the Goulburn River from the upstream boundary of the 5 knot zone at Tahbilk to Sandy Creek are prohibited to all persons and vessels not registered to take part in the Nagambie Waterski Club events, provided that the stated safety controls and undertakings detailed in the Application for Boating Activity provided that the exemptions and Exclusion Zones are adhered to. Supervised transit arrangements will be in place.
Table 1
16th November 2019 8am to 5pm
4th January 2020 8am to 5pm
18th January 2020 8am to 5pm
1st February 2020 8am to 5pm
15th February 2020 8am to 5pm
29th March 2020 8am to 5pm

BY ORDER OF STRATHBOGIE SHIRE COUNCIL
David Roff
Group Manager Corporate & Community
13 November 2019