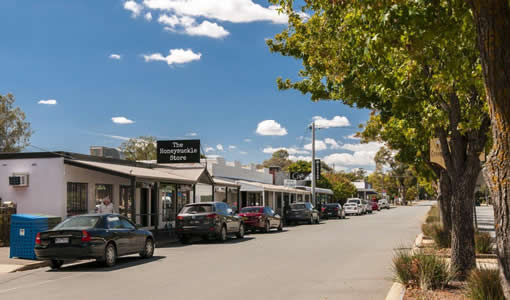 The famous explorer, Major Thomas Mitchell first discovered the area when travelling to Sydney; setting camp in 1836 beside some ponds (Honeysuckle Creek) where wild violets were in flower.
He so named the spot Violet Ponds.
Two years later the government laid out the village of 'Violet Creek', intending to develop a stopping point for the growing traffic on the road between Port Phillip and Yass in New South Wales.
In another first, Violet Town also had the first gas lighting in Victoria.
Community spirit reigns supreme at Violet Town. Whether it's transforming the town's Honeysuckle Creek from weedy wasteland to a wildlife wonderland, or hosting a monthly market which draws thousands of shoppers – there's nothing this community cannot do.
Spend some time in this diverse rural community and you cannot help but be uplifted by the experience.
There are great places to stay and explore.
Take your pick of great dining in local cafes or a quiet ale with the locals in one of the town's two pubs and make sure you put aside plenty of time to walk the renovated Honeysuckle Creek track, and the Community Forest.
Website: http://www.violettown.org.au
Accommodation
Ain Garth Self Catering Accomodation
Robbie Rae
7 Lily Street Violet Town
0413 276 687
This email address is being protected from spambots. You need JavaScript enabled to view it.

At the foothills of the Strathbogie Ranges faithfully restored "Ain Garth", ("Our Home"), circa 1910, is a self contained 4 bedroom house, located right in the heart of Violet Town.
Within walking distance of the supermarket, pub, Rec Reserve and Honeysuckle Creek walking trail - a stone's throw from the famous monthly Violet Town market (held 2nd Saturday of the month).
Perfect for couples, families or a group of friends.
---
Glen Falloch Farm Cottage
Roger Piggott
252 Warrenbayne West Rd Warrenbayne West
0403 340 660
This email address is being protected from spambots. You need JavaScript enabled to view it.
www.glen-falloch.com.au

"Glen Falloch" Farm Cottage is the original homestead set in a private part of our farm in Warrenbayne West.
Just over two hours from Melbourne, it is the perfect destination for either that special occasion or the "lets just go away somewhere" weekend escape!
Complete seclusion and privacy guaranteed.
Luxury self-contained farm cottage with all facilities.
Continental and ingredients for traditional self-cooked breakfasts supplied.
Separately catered meals are available by arrangement. Maximum occupancy is two.
---
Mystic Downs Farm
Angela Ritchie
886 Downs Road, Violet Town
0409351566
This email address is being protected from spambots. You need JavaScript enabled to view it.
Luxury accommodation in a converted shearing shed on a sheep farm north of Violet Town. Guests can help with feeding animals, pat our lambs and friendly goats or sit back and enjoy the peace and quiet by the pool or on the deck over looking the farm.
---
Rotherlea Lodge Farmstay BnB
Karen James Viant
Warrenbayne West Rd, Warrenbayne West
0427 026 837
This email address is being protected from spambots. You need JavaScript enabled to view it.
www.rotherlealodge.com
Rotherlea Lodge is a purpose built luxury accommodation that may sleep up to 6 people. 2 hours drive from Melbourne you will be surrounded by our 450 acre propoerty that you are welcome to explore, play tennis, veg out or we can suggest some fabulous day trips to wineries or galleries.
We are pet friendly.
Call to make a booking, and check out our website for loads of photos.
---
The Parish
Helen Keighery
41 Primrose Street Violet Town
0402 987 641
This email address is being protected from spambots. You need JavaScript enabled to view it. '; document.write(''); document.write(addy_text41194); document.write('<\/a>'); //-->\n This email address is being protected from spambots. You need JavaScript enabled to view it.
The Parish is a one hundred year old Church which is suited for a variety of uses. The main body of the Church has a bar and espresso coffee machine, couches, woodfire, DVD,and meals area.
There are two queen bedrooms off the main space , a bathroom with two toilets , a shower and deep bath. The kitchen is fully equipped. The Church can provide flexible accommodation for couples that are straight, gay or friendships plus ideal for family groups.
Breakfast provisions included.