Golden Mountain Walking Track
Distance
4 km
Time to complete
Advanced walkers – 1.5 hrs
Moderation walkers – 3 hrs
Slow walkers – 4 hrs
take into account extra time to take in the full sensory experience of this walk.
Relative difficulty
This walk is easy to moderate. Don't rush it, take plenty of time to stop, look and listen.
Overview
This forest drive plus a walk starts 23 km from the Strathbogie Township.
From Euroa it is a 45 minute drive to the start of the track.
The drive takes you deep into the Strathbogie Forest to reach the start point which is 12.7 kms from the end of the bitumen on Tames Rd, or about 25 minutes drive from Strathbogie.
The walk is recommended as a slow ramble towards the peak of Golden Mountain. Walking along old logging tracks you will pass large moss covered granite boulders, Eucalypts including Peppermint Gum and Ti-tree thickets. At the summit you will be rewarded with magnificent views to both the east and west.
Gooram Falls Trail
Distance
400m from car park to falls
Overview
Gooram Falls is a great place to visit for a relaxing day by the water. The two cascading falls are a part of Seven Creeks Wildlife Reserve, with the water source being Seven Creeks. There are two small falls roughly 20 metres apart surrounded by indigenous bushland and rocky outcrops. While you are there, you could explore the other natural attractions of the Strathbogie Ranges.
Mt Wombat Flora & Fauna Reserve
Distance
5.5km Return
Time to complete
2 Hours
Relative difficulty
Moderate This is a dirt vehicle track with a gradient increasing to a very steep concreted rise to the summit. Visitors need to be self-reliant.
Note: vehicles also use this track.
Overview
Mt Wombat and Garden Range Flora and Fauna Reserve, in the area around Mt Wombat, is perhaps the most well known nature reserve in the Strathbogie Ranges. Most visitors drive to the top of Mt Wombat for a great view over the Tableland to the east and over the plains to the north and west. But few people venture beyond the track and car-park and fewer still explore other parts of the reserve....Why not ?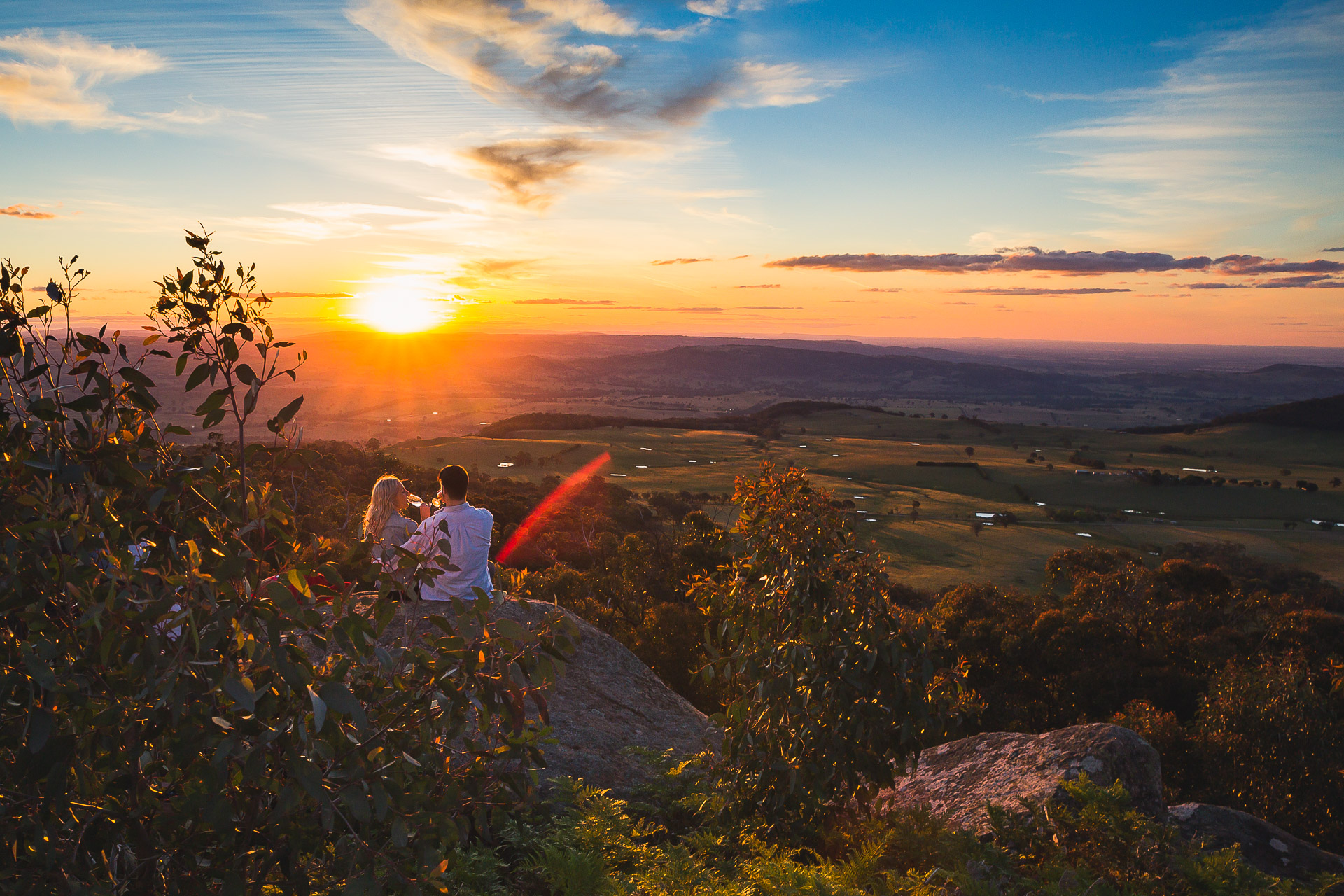 Ruffy Snow Gum Reserve Walking Track
Distance
3km return
Time to complete
Advanced walkers - 20 min return
Moderate walkers - 1 hour return
Slow walkers - 1½ hours 30 mins return
Relative difficulty
The recommended seasons for this walk are Autumn and Winter. There is uneven ground with logs and branches to step over. Gum Boots are recommended on wetter days. Avoid the tiger snake season unless you enjoy the company of these reptiles.
Overview
This track meanders down an unused road reserve through open narrow-leaf peppermint forest until it crosses a walking bridge and enters the Ruffy Flora Reserve.
A circuit of this reserve takes you through swampy riparian woodlands dominated by ancient mountain swamp gums, past a tiny population of snow gums, remnants of a colder climate and skirts a chain of dark deep billabongs into bandicoot and koala territory.
Seven Creeks Walking Track
Distance
Total distance is seven kilometres. Several bridges cross the Seven Creeks which can be used as alternative routes.
Short Walk - 3 km circuit to the north (down stream)
Long Walk - 4 km circuit to the south (up stream)
Time to complete
Advanced walkers - 60 minutes
Moderate walkers - 80 minutes
Slow walkers - 120 minutes
Relative difficulty
Easy
Overview
The Seven Creeks Walking Track was established in 1988 by the Euroa Apex Club as a Bicentennial project.
The walking track encompasses the Seven Creeks passing through Floodplain Riparian Woodlands. The track surface ranges from well-maintained asphalt, grassed areas and loose gravel. The Balmattum Hill Walking Tack can be accessed via the southern end of the Seven Creeks Walking Track.
Covered footwear is advisable. Dogs are permitted on leashes. A multipurpose track offering nature's delights to enjoy!