Enrolments for 2022 are now open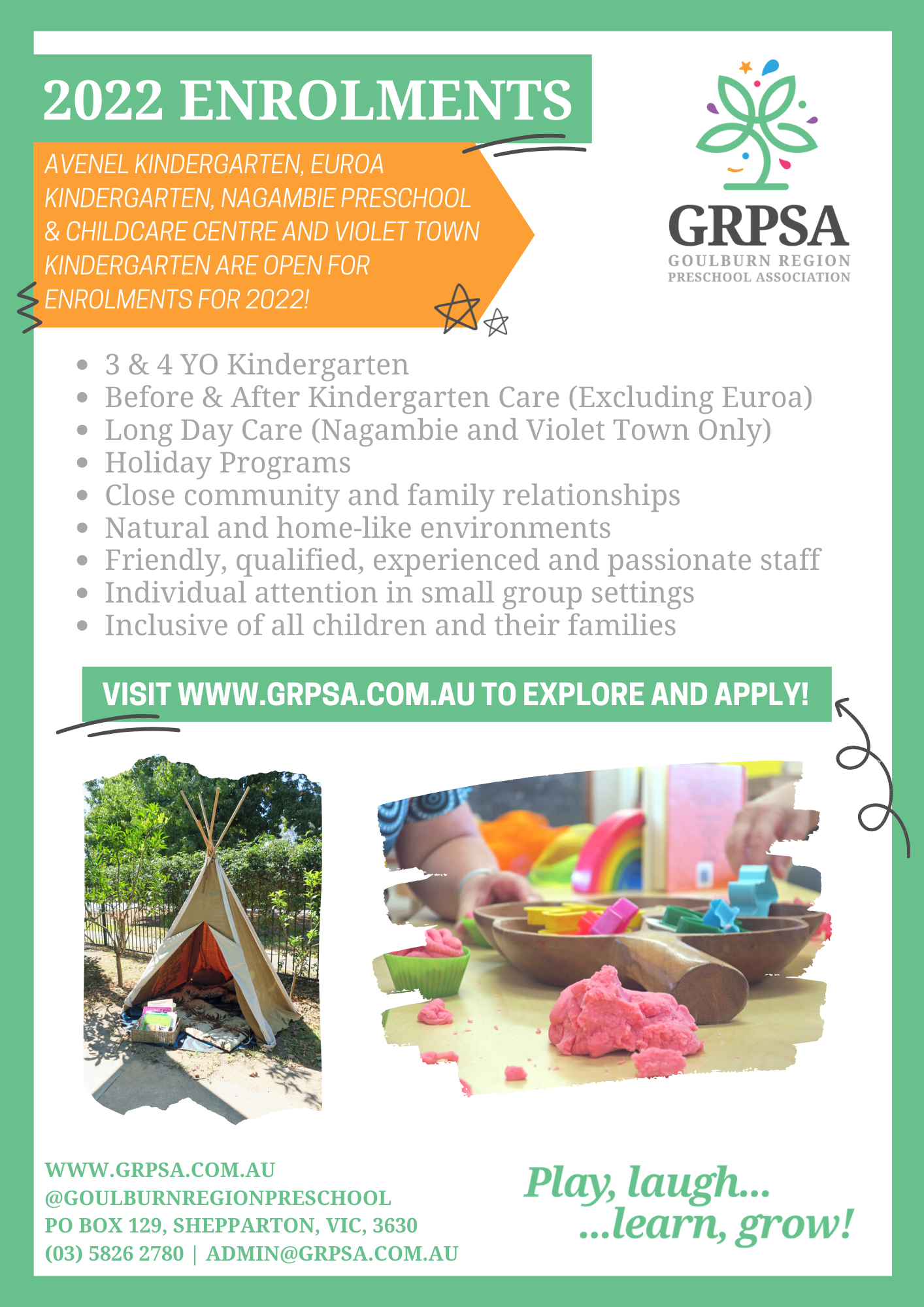 ★ Euroa Kindergarden News - coming in 2022
Beginning at the start of term 1 2022 Euroa Kindergarten will be offering After Kinder Care for all enrolled 3 & 4 year old children.
Kindergarten will be 8.45am to 1.45pm.
After Kinder care will be 1.45pm to 3.45pm and available 4 or 5 days a week.
Places are limited so please register your interest as soon as possible by contacting the kindergarten on 57952310.
---
The Preschools in Strathbogie Shire are managed by Goulburn Region Preschool Association.
To learn more about the Goulburn Region Preschool Association and the role they play in providing high quality early childhood services in our Shire, click to visit their website.
---
Contact details
Please find below the contact details for the Strathbogie Shire Pre-schools, Kindergartens and Childcare Centres:


Avenel Preschool
31 Watson Street, Avenel, 3664
5796 2559
This email address is being protected from spambots. You need JavaScript enabled to view it.
---
Euroa Kindergarten
46A Kirkland Avenue, Euroa, 3666
5795 2310
This email address is being protected from spambots. You need JavaScript enabled to view it.
---
Goodstart Early Learning
8-14 Campbell Street, Euroa, 3666
5795 2266
This email address is being protected from spambots. You need JavaScript enabled to view it.
---
Nagambie Preschool Centre
16 Vale Street, Nagambie, 3608
5794 2410
This email address is being protected from spambots. You need JavaScript enabled to view it.
---
Violet Town Kindergarten
8 Hyacinth Street, Violet Town, 3669
5798 1477
This email address is being protected from spambots. You need JavaScript enabled to view it.
---
Violet Town Occasional Care
Wednesday 9am to 1.30pm
8 Hyacinth Street, Violet Town, 3669
5798 1477
This email address is being protected from spambots. You need JavaScript enabled to view it.