What are our communities doing to be more sustainable?
Euroa is setting the standard for what is known as a sustainability movement, slowly emerging in the Strathbogie Shire.
A number of local businesses are playing their part in making the town a more environmentally-friendly place to live in a number of ways:
Fare Enough, Cherry Tree Cafe and Burke's Bakery: Keep Me Cups and recycling boost
Fare Enough in Euroa are doing their bit in reducing their carbon footprint by purchasing a second recycling bin from Strathbogie Shire Council.
With an increase of milk cartons, bottles and cardboard, Fare Enough were only too happy to purchase an additional bin. The cafe also uses paper bags rather than plastic, as well as bamboo plates and cutlery for catering which are cleaned and then reused. They are also one of several cafes who sell Keep Me Cups, which encourages coffee drinkers to re-use cups rather than throwing out recyclable coffee cups.
Burke's Bakery and the Cherry Tree Cafe also sell Keep Me Cups.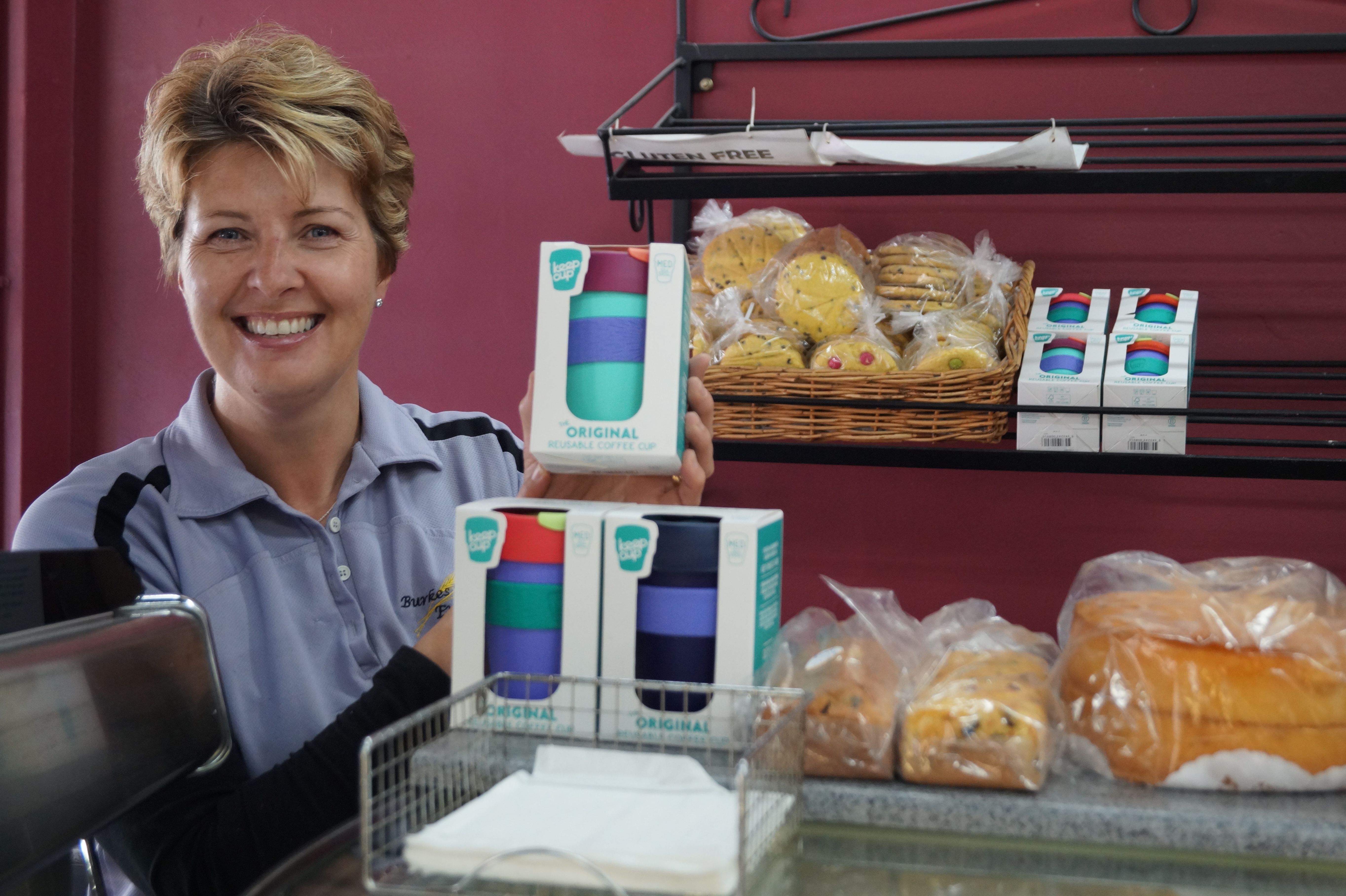 The Weekend Local - Coffee Discount
The Weekend Local in Euroa provides a 50 cent discount to customers who provide their own coffee cups to take-away.
McDonald's Euroa - Rainforest Alliance coffee beans
The coffee beans are from farms that are Rainforest Alliance certified - which means that coffee farmers from Brazil are reducing their environmental footprint of coffee farming by implementing better agricultural practices like using less fertilizer, reducing water consumption and optimising drying patis.
These changes results in an 80 per cent decrease in the use of agrochemicals, a reduction in their Greenhouse Gas emissions and a 10 per cent increase in productivity.
Boomerang Bags
Made from a selection of recycable materials by a small band of Strathbogie Shire residents, these bags are shared around the community, replacing plastic bags, which is a major cause of waste contamination. Available at several stores around Euroa, including the Euroa Fruit Shop.
The use of environmental bags is also gaining momentum throughout the Shire, with Burton's IGA in Euroa strongly encouraging their use.