Friday, 25 January, 2019
Violet Town recently welcomed the delivery of an old Southern Aurora Train carriage in preparation for the 50th anniversary of the Southern Aurora train crash on 7th February.
The carriage now sits centre stage in the Southern Aurora Memorial Garden which is nearing completion and will be officially launched at a commemorative event held from 7th-10th February in Violet Town.
Strathbogie Shire Council and the Southern Aurora Memorial Committee would like to thank V/Line, Australian Rail Track Corporation (ARTC), Over Dimensional Lift and Shift and Downer Group for their combined efforts in transporting and installing the carriage.
On the 7th February 1969 approximately 1km South of Violet Town, in the heart of North East Victoria, the Southern Aurora overnight express service from Sydney to Melbourne collided head on with a freight train travelling in the opposite direction shortly after 7am.
Nine people died, and 120 were injured in the burning entanglement of the high-speed crash.
It was the townspeople of Violet Town, the district and the local emergency services who were pivotal in helping those still living to escape the train wreckage. They held the fire at bay, smashed windows and pulled passengers to safety.
Nearly 50 years on, many long-time residents of Violet Town still vividly remember the fateful day.
The gardens and commemorative event have come about as a result of the hard work of a group of locals who have formed a committee to respectfully acknowledge the tragedy.
Southern Aurora Memorial Committee member and local historian, Bruce Cumming said the community welcomes one and all to attend the commemorative weekend.
"Violet Town and the surrounding districts and communities are keen to commemorate both the national significance of the disaster, but also the wonderful contributions of many good Samaritans from around Violet Town and the surrounding districts that helped in many ways to save lives and support people who needed assistance," Mr Cumming explained.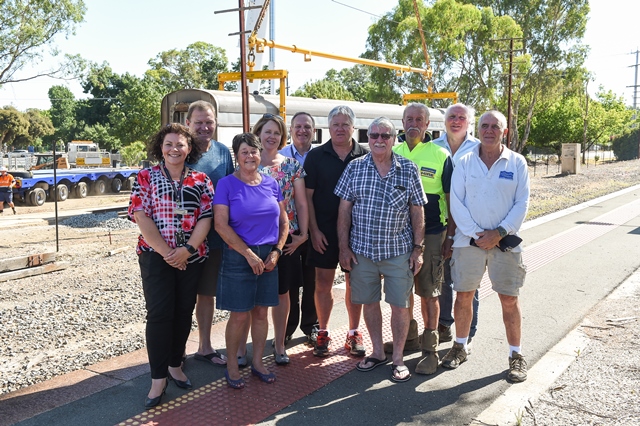 The Southern Aurora Memorial Event Program
Thursday 7 February
6.30am Vigil & religious service at the crash site
Friday 8 February
5pm Opening of the Art Exhibition—VT Community Hall
Saturday 9 February
8am 1pm Violet Town Community Market—Tulip Street
5pm—10pm Choir of Hard Knocks Concert supported by
JoJo Smith & Damien Neale—VT Recreation Reserve Tulip Street
Sunday 10 February
10am Official Opening & dedication of Memorial Garden
1pm Planting of coloured paper hands
1.30pm—3pm Emergency Vehicle Parade led by the Police & Euroa Citizens Band
3pm – 6pm Live Music by "Idle Men" at the Ellen Francis Hotel
Open all weekend
Community Exhibition ,Violet Town Community Hall - Cowslip Street
Historical Exhibition, Violet Town Museum - Cowslip Street.
For more details and other events visit:
www.southernauroraviolettown.com.au