Tuesday, 31 July, 2018
How do you think Strathbogie Shire Council can better support economic development in the region?
Council has recently employed Mr Steve Cooper as Economic Development and Project Officer, replacing a vacant position after the recent departure of a valued employee.
Steve said he is really excited to look at innovative ways to support and drive economic development in the shire and is enjoying getting out and about to talk to local businesses.
"I'm really looking forward to developing and promoting the business profile of the Strathbogie Shire," Mr Cooper said.
Steve will be visiting local businesses across the Strathbogie Shire over the coming weeks to talk about their needs and how Council can support the local economy.
If you would like to be a part of the conversation, please visit Strathbogie Shire Council's OurSay platform at www.oursay.org/strathbogie and provide an idea or comment on our forum or email Council via This email address is being protected from spambots. You need JavaScript enabled to view it. .
The Strathbogie Shire OurSay platform is a new tool Council is using to consult with the community for ideas, questions and feedback in relation to projects and initiatives, as part of a concerted effort to increase community engagement.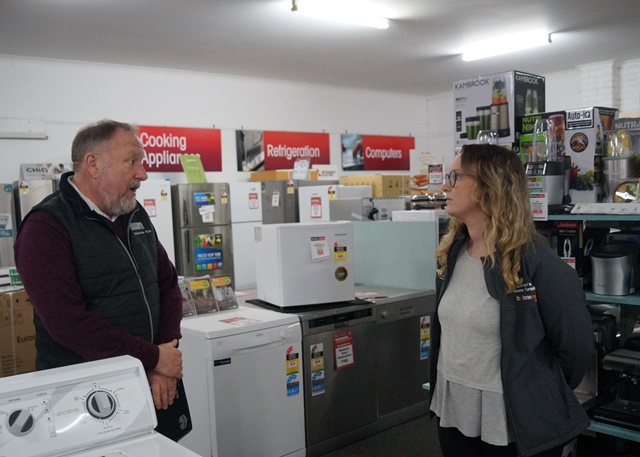 Council's Steve Cooper and Thomson's Home Furnishers Stephanie Swift discussing local business in Euroa