20 January 2020

A by-election countback for the Lake Nagambie Ward was held this morning at the Euroa Community Conference Centre
As a result of this, Robert (Bob) Gardner is a Councillor elect and an official swearing-in ceremony will take place on Tuesday 28 January 2020 at 10am at the Nagambie Visitor Information Centre.
Members of the public are welcome to attend.
The seat was made vacant following the resignation of following the resignation of Cr Debra Bower (formerly Swan).
A postal by-election will be held this March for Honeysuckle Creek Ward within Strathbogie Shire Council.
This follows the resignation of Cr Kate Stothers.
People are reminded that they must be correctly enrolled by 4pm Friday 24 January to be eligible to vote.
There are special enrolment categories for owners, occupiers, company nominees and people who are not Australian citizens but pay rates for an address in Honeysuckle Creek Ward.
Check your enrolment at: https://www.vec.vic.gov.au/Enrolment/
Pictured below at the bi-election count are Cr John Mason, Robert (Bob) Gardner, Cr Malcolm Little, Cr Amanda McClaren (Mayor) and Phillippa Heskett (Victorian Electoral Commission).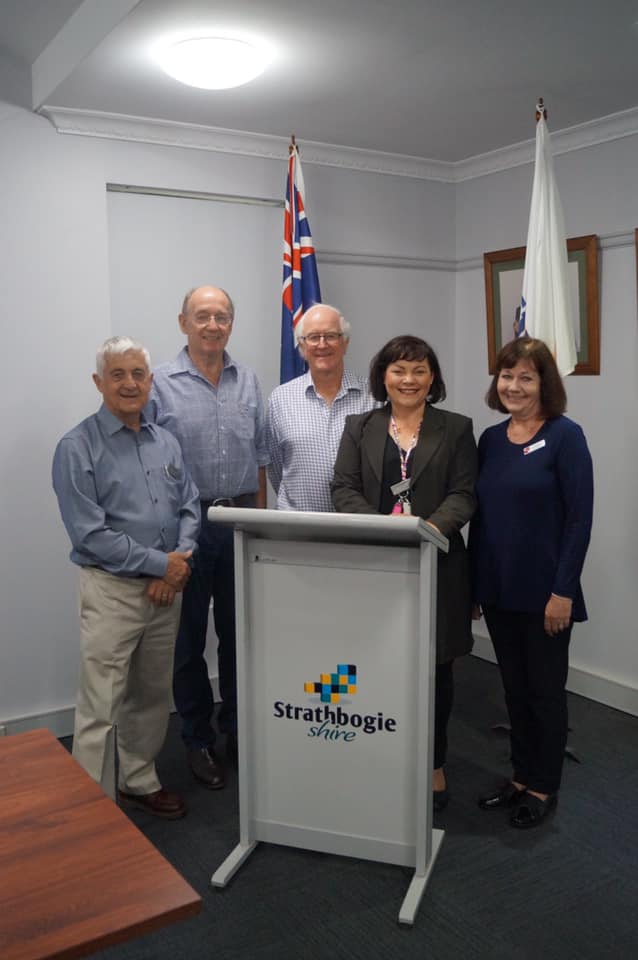 19 January 2020
Strathbogie Shire residents will hear from inspiring, educational and motivational guest speakers at this year's Australia Day ceremonies on Sunday January 26.
The townships of Avenel, Euroa, Longwood, Nagambie, Strathbogie and Violet Town will host the presentations of Australia Day Awards throughout the day, with a citizenship ceremony taking place in Euroa.
The Australia Day Awards acknowledge and celebrate the community service, contributions and achievements of local residents, while new residents will receive their citizenship.
Revered Australian cartoonist and writer Michael Leunig, whose political commentary spans more than 50 years, will address Avenel residents at this year's ceremony.
His work regularly features in the Melbourne Age and the Sydney Morning Herald.
He is also a painter, philosopher and poet and describes his approach as regressive, humorous, messy, mystical, primal and vaudevillian.
Leunig is no stranger to North East Victoria, with the devout nature lover dividing his time between the region and Melbourne.
Emily Quattrocchi, who suffered a minor brain injury and was left with a T4 spinal injury following a car accident in 2018, will inspire Euroa residents as this year's ambassador.
Before her accident, Emily was an avid cheerleader and despite her injuries she has worked extremely hard to recently be crowned a Nationals Cheerleading Champion.
A Strathbogie Shire resident, she has made an inspirational documentary called "Emily … you never give up" and films weekly segments for her YouTube channel sharing updates of her life post her accident.
Longwood residents will learn of the adventure and exhilaration of being a coxswain for the Port Phillip Sea Pilot when Ivor Guest takes the stage on Australia Day.
The powerhouse was at the helm of the iconic orange pilotage boats from 1990 until his retirement in 2015.
He is a now a familiar face around Longwood, regularly visiting his daughter Shona and riding through the picturesque Strathbogie ranges.
One of the foremost experts on corporate leadership in Australia, Fabian Dattner, will be this year's Nagambie Australia Day ambassador.
She has been synonymous for more than 20 years helping organisations throughout the country overhaul their leadership capacity including daring expeditions to Antarctica.
In Strathbogie, futurist, strategist and author Dr Peter Ellyard will provide insight into how communities, companies and individuals can develop successful pathways in the emerging 21st century global society.
He chairs Foundation 2050 and is currently the chairman of the Preferred Futures Institute.
Violet Town will host one of its own community members Ro Allen, an experienced, passionate and longstanding advocate of LGBTIQ Victorians.
Ro has a deep understanding of the issues faced in rural and regional areas having been a member of government advisory boards, CEO of UnitingCare Cutting Edge as well as establishing the first rural support group for young LGBTI people.
Ro was appointed Victoria's first Gender and Sexuality Commissioner in 2015.

Strathbogie Shire 2020 Australia Day Town Events
Avenel
Jubilee Park, Queen St Avenel
9.30am Ceremony
10.30am Morning Tea
Presentation of Australia Day Awards
Guest speaker: Michael Leunig
Euroa
RSL Park
Kirkland Avenue, Euroa
11.30am Ceremony
Presentation of Australia Day Awards and Citizenship Ceremony
Guest speaker: Emily Quattrocchi
Longwood
Longwood Community Centre
2A Down St, Longwood
5.00pm Children's Games
6.00pm BBQ
7.00pm Ceremony
Presentation of Australia Day Awards
Guest speaker: Ivor Guest
Nagambie
Buckley Park, Glencairn Lane
Nagambie
8.00am Sausage Sizzle
9.00am Ceremony
10.00am Sausage Sizzle
Presentation of Australia Day Awards and Citizenship Ceremony
Guest speaker: Fabian Dattner
Strathbogie
Strathbogie Memorial Hall, Main St, Strathbogie
9.00am Ceremony
10.00am Morning Tea
12.00pm BBQ
Presentation of Australia Day Awards
Guest speaker: Dr Peter Ellyard
Violet Town
Violet Town Community Complex, 35 Cowslip St, Violet Town
7.00am Breakfast
9.00am Ceremony
Presentation of Australia Day Awards
Guest speaker: Rowena Allen
For further details on all Australia Day activities in Strathbogie Shire, phone 1800 065 993 or visit strathbogie.vic.gov.au
16 January 2020 Julie Salomon has joined Strathbogie Shire Council as its new Chief Executive Officer. Ms Salomon brings with her a wealth of senior executive experience, having spent more than 10 years at Greater Shepparton City Council and City of Monash. She has signed a three-year contract with Council, taking over from Acting Chief Executive Phil Howard. Ms Salomon was selected from a list of high-achieving candidates after an extensive recruitment process. Strathbogie Shire Mayor Cr Amanda McClaren said Ms Salomon was passionate about working with, and for, communities, driving quality service delivery and delivering creative and sustainable outcomes for the community. "We are so pleased to appoint Julie, a seasoned local government executive, with a strong connection to the Goulburn Valley region and broad experience in leading and managing community development and services," she said. "It will be fantastic to have Julie at the helm as we head into the final year of this Council's term. "We look forward to the leadership and vision Julie will provide the organisation into the future, with a strong focus on meeting the needs and expectations of our community." Ms Salomon said one of her key priorities was working with the community for better outcomes for all. "I look forward to building on and harnessing new, existing and emerging opportunities and working with Councillors and our community to achieve our shared goals, priorities and aspirations," she said.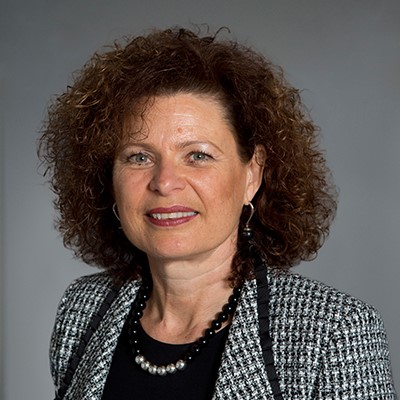 11 January 2020
Strathbogie Shire Council's Maternal and Child Health Service open sessions are now available at the same times across all four centres.
The open sessions, which are held from 9.30am to 11am on designated days at each centre, are designed to give families the opportunity to call into their local centre for a 15-minute consultation with a Maternal and Child Health nurse without a prior booking.
Community Wellbeing Manager Debra Ellis said the sessions are a great way for parents to simply drop in to discuss weighing, feeding and growth reviews with their new baby.
"These regular open sessions are primarily for short consults but will give parents the opportunity to call in without an appointment to discuss any concerns they may he having,'' she said.
She said the open sessions are available to families in addition to 10 key age and state visits which are provided for all children enrolled with the service. Individual appointments should be made for these.
Strathbogie Shire has three highly qualified and skilled maternal and child health nurses in Jane, Cheryl and Leoni, who has joined the team this year.
Ms Ellis said the Council's Maternal and Child Health Nurses are skilled and knowledgeable in child development as well as breastfeeding, sleeping and nutrition.
Families visiting Euroa and Avenel centres will be able to utilise the newly refurbished facilities that were undertaken in 2019.
The designated days for open sessions at each centre are:
Euroa Maternal and Child Health Centre, 2 Bury St - Mondays
Nagambie Maternal and Child Health Centre, Nagambie Preschool, 16 Vale St - Tuesdays
Avenel Maternal and Child Health Centre, Avenel Preschool, 31 Watson St - Wednesdays
Violet Town Maternal and Child Health Centre, Violet Town Preschool, Hyacinth St – Thursdays.