Monday, 11 November, 2019
Council reminds residents that Bushfire Places of Last Resort are available across the Strathbogie Shire in times of fire emergency.
A Bushfire Place of Last Resort (BPLR), or formally referred to as a Neighbourhood Safer Place, is a place where you can go when your personal bushfire plans have failed.
A BPLR is a predetermined location which is considered relatively safe from bushfire.
The following locations in the Strathbogie Shire are Bushfire Places of Last Resort:
Kirkland Avenue, between Clifton Street and Bury Street, Euroa
Avenel Recreation Reserve Pavilion, 33A Anderson Street and Watson Street, Avenel
Longwood Recreation Reserve Pavilion, 2A Down Street, Longwood
Mangalore Airport Main Building, 331 Aerodrome Road, Mangalore
Nagambie Lakes Regatta Centre, 66 Loddings Lane, Nagambie
Ruffy Recreation Reserve Oval, 36 Noye Lane, Ruffy
Strathbogie Golf Club House, 17 Armstrong Avenue, Strathbogie
Violet Town Recreation Reserve Pavilion, 2 Tulip Street, Violet Town
Country Fire Authority (CFA) provides the following advice about Bushfire Places of Last Resort on their website:
Locations may provide some protection from direct flame and heat from a fire, but they do not guarantee safety
They are not an alternative to planning to leave early or to stay and defend your property; they are a place of last resort if all other fire plans have failed
They are an existing location and not a purpose-built, fire-proof structure. It is important to know that many NSP-BPLRs are simply a clearing that provides separation distance from the bushfire hazard (e.g. forest).
They are not to be confused with Community Fire Refuges, Relief Centres, Recovery Centres or Assembly Areas, each of which have a different and specific purpose.
They are not an appropriate destination when leaving the area early
They are not a place of shelter from other types of emergencies (e.g. to escape rising floodwaters or severe weather events)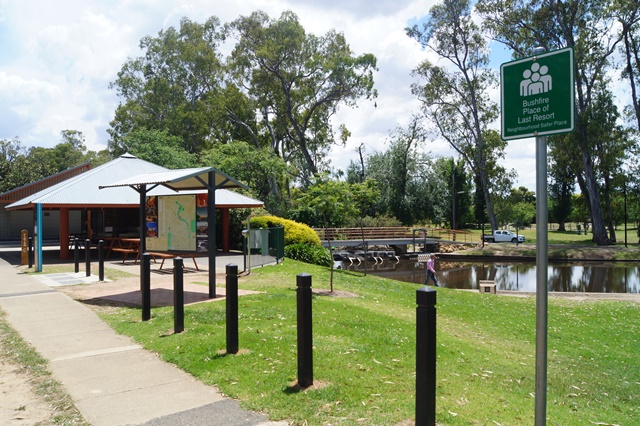 Monday, 11 November, 2019
Strathbogie Shire Council urges residents to remain vigilant with keeping their properties maintained this Fire Danger Period (FDP).
Properties within townships or less than two hectares must remove all flammable rubbish from their yards and ensure grass and weeds are kept cut to a height of no more than 100 millimetres.
Properties greater than two hectares must slash around all buildings to a minimum distance of 20 metres.
Property boundaries must be slashed to a width of 6 metres. When neighbouring dwellings and assets are nearby this must be increased to at least 20 metres.
Property owners and occupiers have a responsibility to ensure their land is as safe as possible to reduce the risk and impact of fires. Failure to prepare and maintain your property during the fire season can put you and your neighbours at a much greater risk.
If owners and occupiers fail to keep a fire safe environment, a fire prevention notice will be issued requesting the property owner to take action.
This notice will include a $113 administration fee. It is a requirement for the owner or occupier to follow the requests in the Fire Prevention Notice throughout the entire FDP, not just at the time the notice is received.
A further failure to maintain the requirements of the Fire Prevention Notice will result in a fine of $1,652.
Council has an active role in reducing fire hazards within and abutting urban areas. If you have any questions or concerns relating to your obligations, please feel free to contact Council Offices on 1800 065 993.
Click here for more information and advice
Friday, 8 November, 2019
Strathbogie Shire Council encourages residents to embrace National Recycling Week (11th- 17th November) as a chance to learn something new about waste and recycling.
Earlier this year, Sustainability Victoria ranked the Strathbogie Shire municipality as number two in the state for diversion of kerbside waste out of 79 local government areas.
Strathbogie Shire Mayor Cr Amanda McClaren said collectively Strathbogie Shire residents are doing a great job at stopping our waste from going to landfill.
"We had only 33% of our waste going to landfill last year, with 67% going in the yellow recycling bin or green organics bin," Mayor McClaren explained.
"The Sustainability Victoria ranking didn't even look at home composting, using the transfer stations or collecting soft plastic for REDcycle which we know lots of you do."
"We congratulate our community on their ongoing commitment to the three bin system which we are proud to say is working really effectively, and we think we can do even better!"
This year Planet Ark asked councils around Australia to tell us what the most common recycling myths held by residents were.
They found the most common myths were that all recycling goes to landfill, a Plastic Identification Code means it's recyclable and soft plastics can be recycled in the kerbside recycling bin.
Do you believe these myths? Let's all do some myth-busting this National Recycling Week.
Our Strathbogie Shire Recycling myth-busters are hitting the streets to answer your curly recycling questions, such as;
Can I recycle plastic plates and cutlery?
What if there is no recycling label?
Where does my recycling really go?
You can always email us your recycling questions to This email address is being protected from spambots. You need JavaScript enabled to view it. , but why not come down for a face to face conversation with our team? Sometimes recycling isn't straight forward so come have a chat.
We will be at Burtons IGA in Euroa from 9-11am and Nagambie Visitor Information Centre from 1-3pm on Thursday 14th November and we would love to see you and bust some myths!
Friday, 1 November, 2019
Gateway Health's Regional Communication Service is facilitating three FREE workshops in November and December in Benalla.
The workshops are:
Key Word Sign- For disability support workers, family members, employers
Talking Mats- For NDIS planners, support coordinators, disability support workers
Positive Behaviour Support- For anyone who supports people with an intellectual and/or communication disability
For more information, please contact Meredith on 5723 2031